Berlin is Germany's thriving capital that dates back to the 13th Century. There is an abundance of history in Berlin including the remains of a graffitied Berlin Wall, Holocaust Memorial and the beautiful Brandenburg Gate that has become a symbol of unification. All of these landmarks are a must see, but while doing so, you must eat great too! With thousands of restaurants to choose from, I did a lot of research and asked my Berlin besties for the best places to go. I hope this can help you too!
Breakfast
Price Range: €
You can't go wrong with starting your day at Zeit Für Brot. With their delicious variety of organic buns, bread and cakes, this is a must go! Don't let the lines shy you away, they are very swift and it is worth the wait!
Tasty Tip: Go for one of their amazing, gooey cinnamon buns!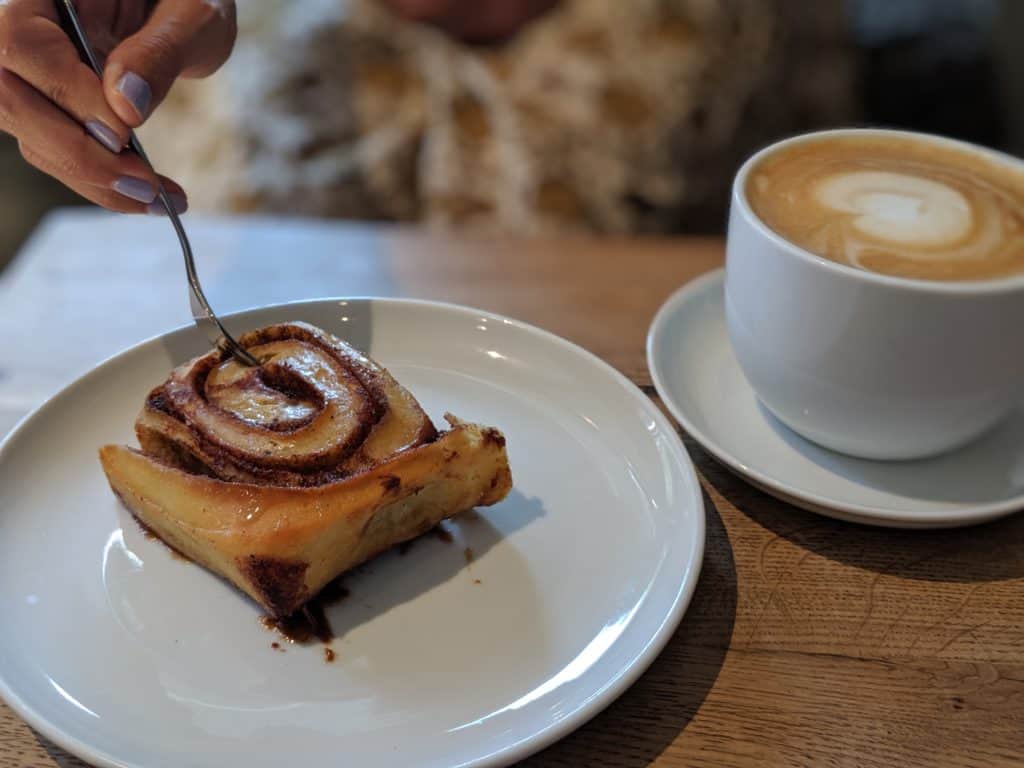 Price Range: €€
Recommended to us by a Berlin local friend, this little gem is on your shouldn't miss list. In a small courtyard with walls covered with gorgeous green vines, Barcomi's Deli offered us a fantastic morning that was hard to leave. Their coffee selection is quite impressive and their food choices including their sandwiches, mixed platters, fresh fruits & salads makes it difficult to know what to taste! It was our last day, so we decided to go crazy & go the sweet tooth side!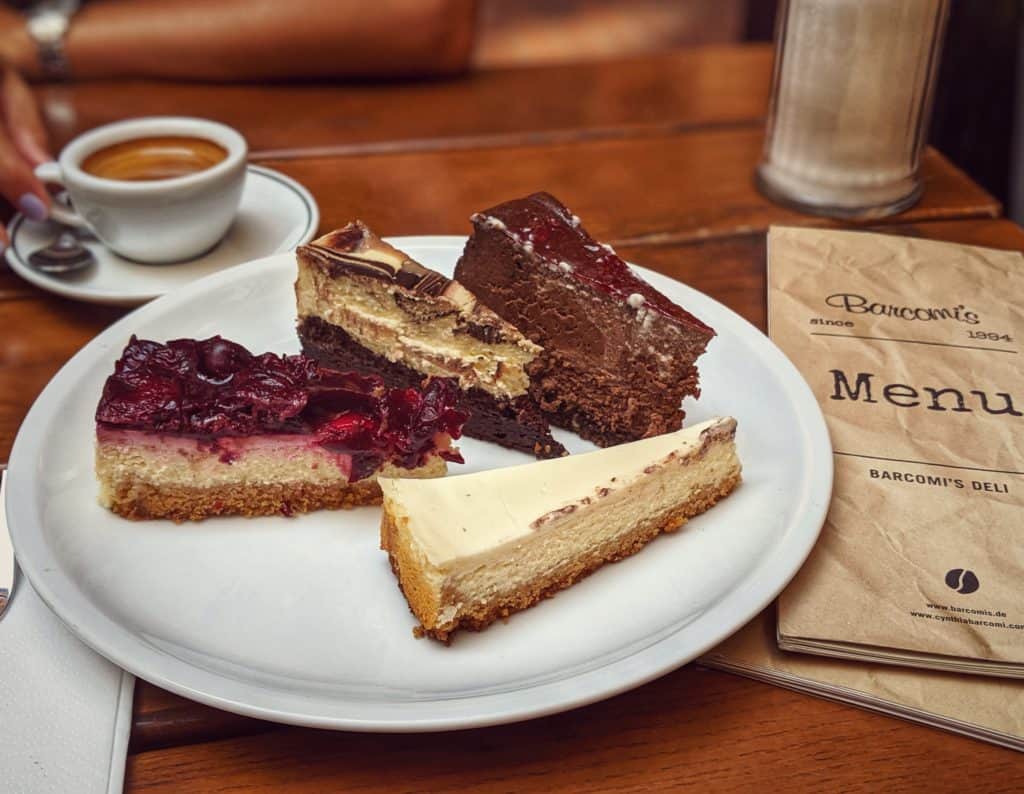 Price Range: €€
My husband and I are in an Acai Smoothie Bowl kick at the moment. Craving this on a day we knew we would be cycling through Berlin, we had a quick search as to where to go. We were lucky enough to pass by this cute cafe and scored a fresh and delicious Acai Bowl with fantastic homemade granola! A great place to go for a healthy breakfast with a variety of smoothies & juices as well as breakfast sandwiches. To top it all off, Vegan friendly too!
Lunch/Dinner
Price Range: €€
Living in Europe is amazing, but being from the States, sometimes I do crave some hole-in-the-wall BBQ! Chicago Williams BBQ did not disappoint! The meat selection is fantastic including pulled pork, brisket, pastrami & chicken… and the sides are even better with classic coleslaw, mac'n'cheese & baked beans. The atmosphere is laid back and the staff is so friendly.
Price Range: €€
Don't judge me. I loved the BBQ so much from the previous night, I was craving more. My friend from Berlin mentioned to checkout the Markthalle Neun. When I saw that Big Stuffed Smoked BBQ was there, I couldn't resist. Their platters are fantastic including 3 of their homemade BBQ Sauces. The mouthwatering meat had a fantastic smokey taste. You won't regret going here.
Closed Sundays and Mondays
Tuesday & Wednesday: Open 12-4
Thursday: Open 12-10
Friday & Saturday: Open 12-6
Price Range: €€
Officially credited as an 'Authentic Japanese Restaurant' in 2016, this was a place recommended to us as being one of the best Sushi Restaurants in Berlin. Tucked away in a small alley way, this is definitely a place to check out! With friendly staff and amazing sushi that floats by on wooden boats, this is one of those places I will revisit!
Price Range: €
If you are in a hurry and want something quick, cheap and delicious, Angry Korean Fried Chicken is a great place to go! Not going to lie, I was extremely surprised with how good it was. It is quite the funky atmosphere and they offer a large variety of Fried Chicken bites and wings with a choice of 4 different sauces!
Price Range: €€€
I cannot recommend Zenkichi enough! What a special place for a romantic evening for two. Zenkichi Berlin opened its doors in 2015 offering the same mission and philosophy of Zenkichi New York (opened in 2006 by a homesick Tokyo-native). The food is absolutely exquisite and presented in such a beautiful way. The sake provided is created via small & medium-sized breweries producing quality over quantity. I must say, I was never a sake fan until coming here! There Sake Menu is extensive and the staff gives great recommendations.
Tasty Tip: Don't miss out on the Frozen Black Sesame Mousse for dessert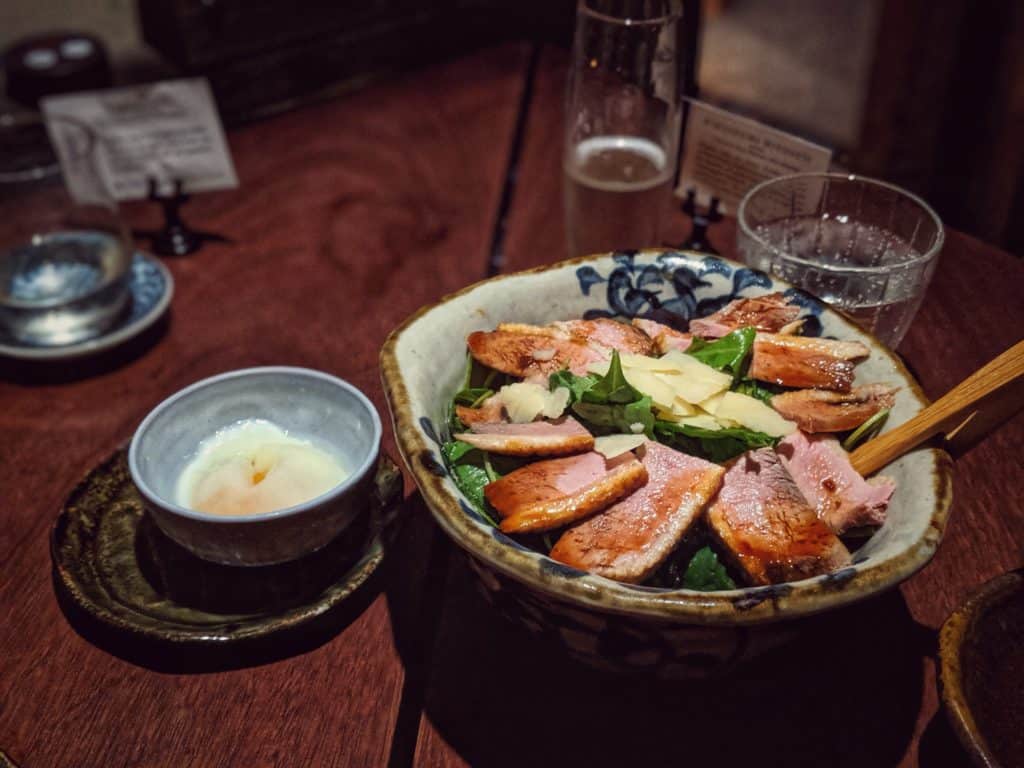 Drinks
Price Range: €€€
Recommended by a Berlin local, The Curtain Club is a part of the glamorous Ritz-Carlton. The Curtain Club has one of the most beautiful cocktail menus I have ever seen with a wide variety of extremely unique cocktails each presented in a special and quirky glass. We took quite sometime looking at each page in the storytelling menu when the servers encouraged us to smell diverse colognes and perfumes mentioning that if there is a particular aroma we like, they will give us a cocktail that matches it. We did exactly this… and all I can say is 'wow'! I can't wait to go back!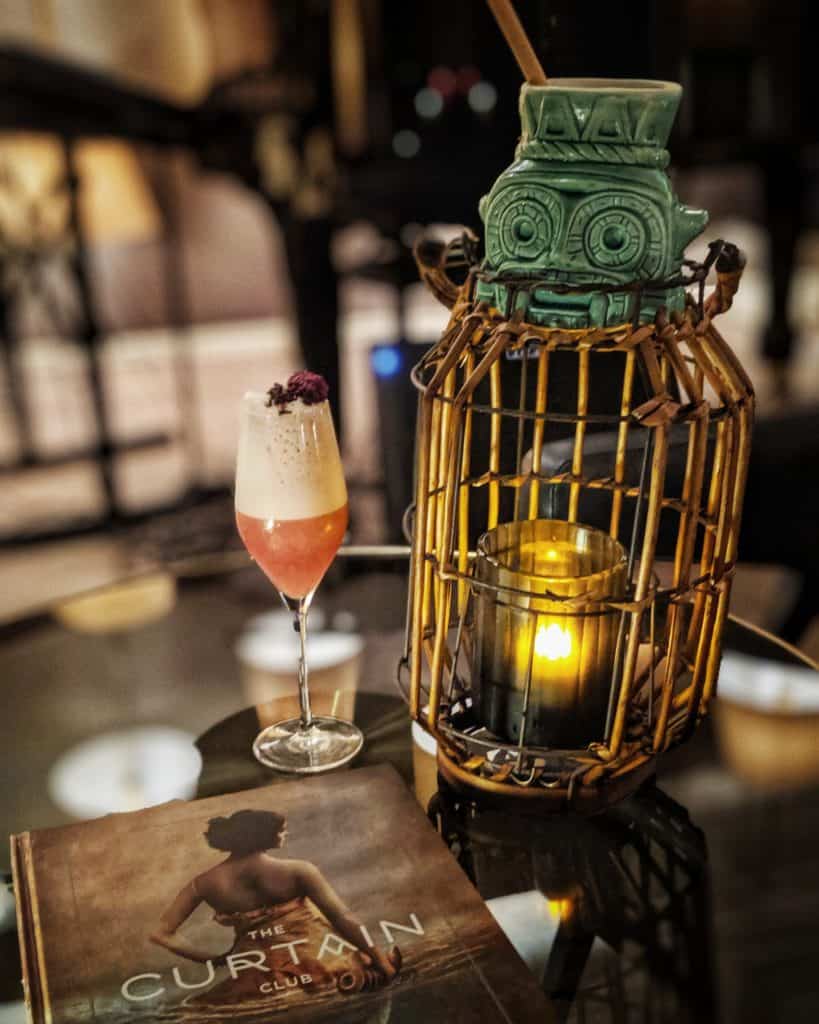 Price Range: €€€
This award-winning bar was one we did not want to leave! We were fascinated by how each cocktail was translucent, yet had a completely different spectacular and fresh taste! Come here and be prepared to be amazing by the mixology of these scrumptious drinks!
Tasty Tip: The cocktail with the Beetroot Liquor blew my mind! And yes, even with Beetroot, the cocktail is clear.
Price Range: €€
While cycling through Berlin on a Sunday along the Landwehl Canal, we spotted this little gem! BRLO Brwhouse is a fantastic, low-key outdoor Brewpub with delicious craft beer. Come here to escape the city, relax with a beer in hand and great company!