To call this place paradise or a dream does not even give it justice. My husband and I spent one night in this spectacular resort and we are still reminiscing on how it was one of our best weekends ever… and it was only one night!
It all starts out in 1871 when two brave and exceptional men bought the property of Bürgenberg ridge. Little by little as time went by, the two pioneers began to build multiple sites, with a few that are still standing today!
Now, fully owned by the State of Qatar, the Bügenstock Resort has been fully renovated and reopened in 2017. Memories of the classic history of Bürgenstock still resonates within the resort memorabilia including multiple photos & historical advertisements, furniture as well as a long wall with written beautiful past stories. The stunning British Actress, Audrey Hepburn even got married in the chapel on the Bürgenstock in 1954.
Bürgenstock Resort consists of 4 hotels including 5* Bürgenstock Hotel, 5* Waldhotel, 4* Palace Hotel & 3* Taverne 1879. Each offering an incredible experience overlooking the gorgeous Lake Luzern and nestled within the countryside & mountains.
Read about each exquisite place on their website to find just what you are looking for. My husband and I were extremely happy with our mountain view balcony room in the Palace Hotel.
The Alpine Spa is worth the 100Fr. Full Day experience! With a fantastic mix of luxury & relaxation, this is the perfect getaway from reality. From the first moment you receive your bathrobe and slippers, you feel right at ease and ready to explore the spectacular Hollywood Pool, Sauna & Steam Landscape, and the breathtaking Infinity-Edge Pool. Being in the sauna and pools can be quite exhausting, but don't worry, their relaxation rooms are ready for you to take a snooze to prepare yourself for even more relaxation.
Woth a 'Healthy by Nature' concept, Waldhotel Spa is another luxurious place to indulge in complete comfort and relaxation.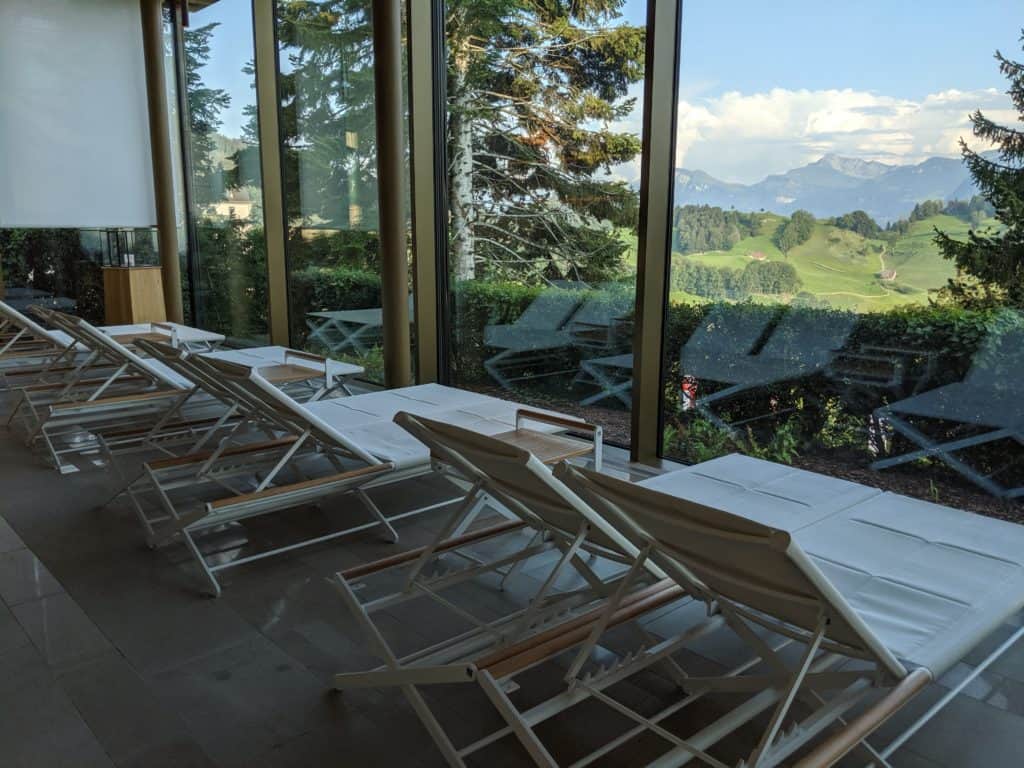 Before splurging into a getaway spa day or evening, I do recommend exploring one of their many activities Bürgenstock Resort has to offer. Weather it be Wine Tasting, Tennis, Golf, Hiking or Cycling, Ice Skating or even watching a movie in their Cinema, Bürgenstock Resort has something to offer for everyone!
My husband and I decided to rent bikes for 4 hours costing us 60Fr. for an E-Bike and 50Fr. for a Mountain Bike. It was a spectacular ride intertwining through the mountains and countryside. It made going to the spa that evening feeling well-deserved!
Büregenstock Resort consists of 9… yes, 9 Restaurants! I can't even begin to tell you how hard it was to choose which restaurant to eat at for our one night stay. Here, you can choose from Fine & Imaginative Cuisine including the Michelin Star Ritzcoffier, to Exotic & Modern Cuisine including Asian & Middle Eastern Tastes, as well as Local & Classics including those delicious Swiss delicacies! Take the time to read about each restaurant to see what truly tickles your fancy. All restaurants have a gorgeous view and I am sure none with disappoint. To celebrate my husbands birthday, we decided to try the Spices Kitchen Terrace. It was a very memorable experience!
I can say that this was one of the best experiences we have ever had in all of our world travels. How lucky we are that it is only an hour and a half away from Zurich, our home. We are looking forward to making this magical place into a tradition we will always come back to!