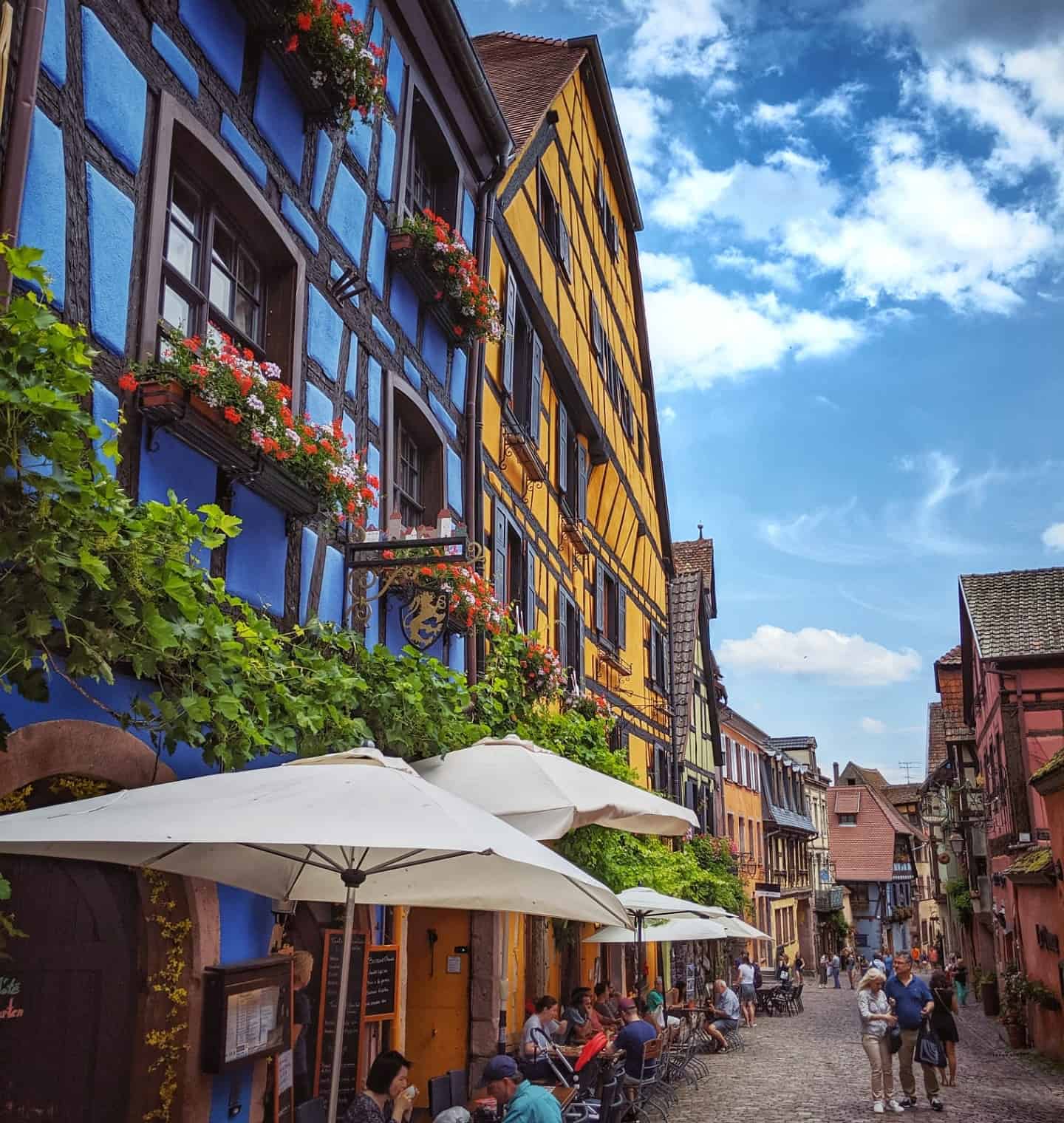 The Alsace is known for its cute traditional french villages surrounded by the vast vineyards. White wines are the pride and joy of the Alsace including Cremant (Alsace's Sparkling Wine), Riesling, Pinot Gris and Gewurztraminer. If you do enjoy red wine, you will be able to find some good Pinot Noirs as well.
I didn't want to hold back on anything for this weekend, so I have split it up so this article is easier to navigate:
The options for wine tasting is incredibly overwhelming and I am sure you won't be disappointed tasting in any of the Alsatian wine estates; however, I have a few I can recommend for you that was exceptional… not only with taste and location, but the wine growers and the knowledgeable staff to share the best of the best!
Wine
Domaine Dopff au Moulin
Starting in 1575, this family run winery is in Riquewihr known for their delicious Cremants.
Open everyday 10-19
2. Domaine André Kientzler
The Kientzler Winery has been brought down from father to son for 5 generations now and it definitely has that 'feel at home' feeling nestled in between lush, green vineyards in Spring. Great dry wines will be found here and you will not leave without buying a few wines.

3. Cave de Ribeauvillé
A large variety of award winning Alsatian wines. This is a very proud winery that sorts only the best grapes for pressing which leads to pure, fresh and intense aromas from their wines.
Open Monday-Friday 8-19 … Saturday-Sunday 9:30-18:30
4. Bott Frère
This Bott Family Winery has been passed down from father to son since 1835. Delicious wines including Crémant, Grand Crus and Late Harvest, you will not leave empty handed.
Open Monday-Sunday 9-12 14-18
5. Gustave Lorentz
This 7 generation family winery has amazing white wines from the Ribeauville region.
Open Monday 14-18 Tuesday-Saturday 10-12 14-18

6. Rolly Gassmann
This amazing winery is located in the small town of Rorschwihr. You will not find Grand Cru wines here (wines from a special soil in the Alsace), but a large variety of unique fruity and fresh wines from close by vineyards. The staff are extremely friendly and encourage you to try as many as possible.
Open Monday-Saturday 9-11:45 13:30-17:45

Wine Bar
Le Goupil Wine Bar Ribeauvillé
Located in the heart of Ribeauvillé in a 16th Century building lies this cute little wine bar. For mouth-watering tapas or for an Alsatian glass of wine before or after dinner, this is the place to go!
Open Tuesday-Sunday 17-12am
Brewery
Brasserie du Vignoble
If you need to take a break from the amazing Alsatian wine, a brewery is always a good option! Brasserie du Vignoble is a fantastic stop for it's great location, friendly staff, and a beautiful beer garden surrounded by vineyards in Riquewihr.
I loved it so much, I ended up staying for another round and lunch and enjoy a Tarte Flammbeé with creamy goats cheese, dried fig, crispy bacon and a thin layer of white cheese sauce.
Very recommended and incredibly delicious.
Open everyday: Times may differ
Food
Dinner
Great food is not hard to come by in the Alsace.
Le Moreote
This cute little 20 seater restaurant is nestled in the gorgeous town of Kaysersberg, France. It has a lovely à la carte menu that suits anyone wanting to indulge in delicious Alsatian cuisine with friendly staff to make you feel right at home. Here are the goodies I enjoyed…

Beetroot Gazpacho: Welcome starter from the kitchen
Black Tiger Prawns
A perfect combination of tiger prawns rest on top of perfectly cooked asparagus drizzled with lobster oil.

Pan Fried Scallops
Rich scallops with fresh mushrooms over a bed of truffle ravioli.

Pan Fried Fresh Duck
A delectable duck top with a thick layer of 'melt in your mouth' foie gras.
Chocolate Mousse
Fluffy Chocolate Mousse drizzle with raspberry & cherry puree.

Au Trotthus
If you fancy treating yourself to a Michelin Restaurant, I can highly recommend Restaurant 'Au Trotthus'.
The Chef/Owner has practised his skills from Australia to Japan to now landing in Riquewihr 20 years ago in a cute 16th Century Alsatian home. He has taste menus to dive into including names of Japanese cities: Kyoto, Tokyo, Kobé. Each comes with your choice of a wine pairing if you choose.
The Kobé menu included:

First Course
A scrumptious mix of edamames with lobster, shrimp and Japanese mushrooms & seaweed surrounded by a creamy egg custard. Paired with a refreshing Cremant.

Second Course:
A 12 hour baked Iberian pork with perfectly crisped edges glazed with smooth teriyaki. Paired with a floral Pinot Gris.
Third Course:
A mouth watering tuna tartare with spring onion, sesame seeds topped with trout egg and light wasabi cream. The Ponzu Sauce completes the delicious course with its delicate citrusy flavour. Paired with a more mineral taste Pinot Gris.

Fourth Course:
An unforgettable smoked fish nestled in smooth potato siphon, smoked Omble Chevalier, parsley oil topped with herring caviar. Paired with a lovely Riesling.

Fifth Course:
The incredible 'melt in your mouth' Wagyu beef accompanied with ponzu and ginger sauce as well as mashed potatoes with truffle. Perfectly paired with a Pinot Noir.

Last Course:
Dinner would not be complete without a memorable dessert! This one did not disappoint. A taste of sweet and sour Yuzu foam at the top, with hidden fresh fruit salad inside, with an exquisite exotic peach sorbet for a clean and fresh finish. Paired with a Grand Cru Gewurztraminer.

Le Chambard: 2 star Michelin Gourmet Restaurant
If you really want to go all out in Gourmet Dining in the Alsace, I cannot recommend 'Le Chambard Gastronomical Restaurant' enough. This was far beyond a nice & romantic dinner, it was an all around amazing experience! Nestled in an 18th Century residence, Chef Olivier Nasti welcomes guests from all over the world to indulge in a true Alsatian local taste experience. You can choose between an A la Carte Menu, the Histoire Menu (4 courses, 2 desserts), or the Expressions Menu (6 courses, 1 dessert OR 7 courses, 2 desserts).
There is no way I can share in every bit of detail everything I tasted; however, I will give you a few scrumptious snapshots to give you a little hint at how spectacular this truly was.
Homemade warm multi-seeded bread with 3 different butters to maximise the fresh taste.

This explosion of flavour was part of the multiple 'small bites of the Alsace'.

Arctic char that was cooked with beeswax, right in front of our eyes! Simply amazing.

Deer smoked in 'Christmas tree' topped with a delicious cranberry glazed gravy.
We were taken to the bar area for a fantastic variety of desserts including chocolate truffles, crumbled pastry and surprise sweet balls that burst with exquisite flavour!

This is just a sneak peak of the Le Chambard Expressions Menu Experience. It is pricey, but if you enjoy food to the fullest and can spend a bit of extra cash, I can 100% recommend this place!

Le Chambard also has another restaurant: Winstub du Chambard that is less expensive and look spectacular as well.

Breakfast
I will leave you with a scrumptious note about breakfast in the Alsace. There is no way to start away from the Patisseries in France and the Alsace know exactly how to win you over!

Boulangerie Artisanale Café
Right as you step your foot into this cute French Café, the overwhelming smell of fresh baked bread and sweet pastries fills you with happiness and excitement from head to toe! It is hard to enjoy only one baked good from this place, so I will admit, I went twice!

Au Péché Mignon
Another amazing pastry shop in Kaysersberg, France. Honestly, it will be hard for you to choose which delicious pastry, cake or tart to get… that's why I got two!