Koh Tao, meaning Turtle Island, is a stunning island in Thailand. With gorgeous white beaches, a great place to snorkel (you just may spot some turtles), a laid back atmosphere, and, of course, amazing authentic and local Thai Cuisine, I would go back to Koh Tao in a heart beat and urge you to visit.
I have separated this article into categories for you to self-guide as you please.
Accomodation
My husband and I have actually stayed here twice. The first time was a surprise anniversary romantic getaway and the second was to show it off to our family for Christmas holidays. Both stays were perfect.
This is a resort that you spot upon your boat arrival. It has panoramic views of the gorgeous sea and the perfect location to watch sunset. There are 19 huts at this resort, 3 of which have a pool & jacuzzi, all resting along the coast of the sea. We loved waking up and falling asleep to the sound of the sea and being able to watch the sunset right from our balcony. A stonesthrow walk into town as well, this was a fantastic place for a romantic getaway.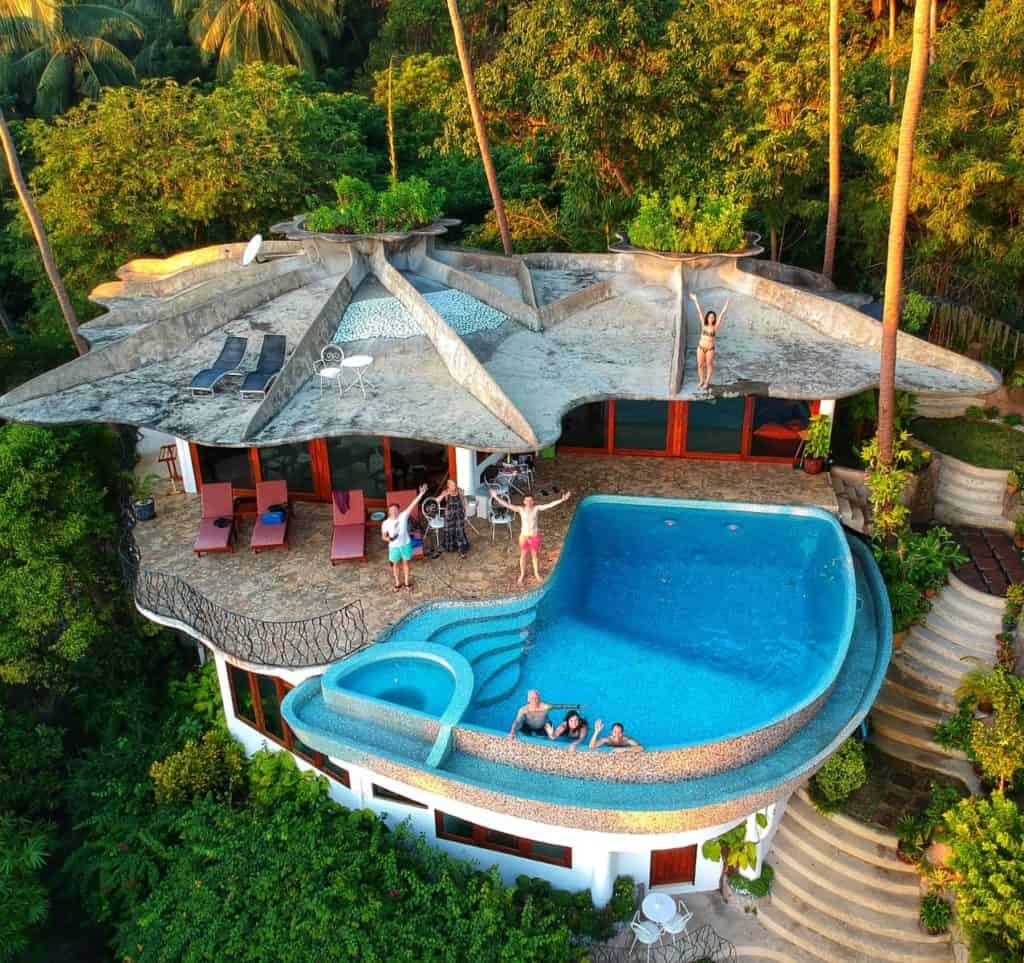 This place is absolutely stunning. High within the hill, you get a gorgeous place overlooking Koh Tao Island. Money Flower Villas has 4 Villas on offer each including beautiful architecture & a homey stay. 3 out of the 4 Villas include a swimming pool. All Villas do contain 24/7 concierge driving service to take you anywhere on the island as you please. A great place to stay for families!
Sunset Chill out & Drinks
The best place to watch the sunset is on Sairee Beach. We went to Windbeach Restaurant every night to grab a bean bag, one of their delicious cocktails or Chang Beer & relax… enjoy the view. If you want a chill and have less party vibe, I recommend this spot! The bean bags are comfortable! Well worth getting there a bit earlier for sunset.
Insider Scoop:
After every sundowner, we would enjoy a massage at our favourite Lotus Massage SPA. A great tradition I would love to pass down to you!
Our Top 3 Favourite Restaurants
1. Banana Rock Koh Tao Thailand
Close to Sai Nuan Beach (a recommended place to snorkel!), this place saved us after snorkeling for a few hours. The people were incredibly friendly and the Authentic Thai Cuisine was scrumptious!
Insider Scoop:
Watermelon Smoothie: Absolutely refreshing & delicious
2. Krua Thai
This place was recommended to us by the owner of Monkey Villas. So happy he did because it is a place we never would have gone to. The restaurant has a large open space with plastic tables and chairs. Don't let this hole in the wall fool you, it was one of our favourite meals throughout our stay!
3. Lai Beach Bar
Perfectly situated next to the infamous Shark Bay (another great place of snorkeling), we stumbled up this bar. Lai Beach bar has comfortable & inviting cushions overlooking the gorgeous sea. The furniture is made out of bamboo leaving a very authentic feel to the place. With friendly staff, amazing food, and right next to Shark Bay, this was the perfect place for lunch.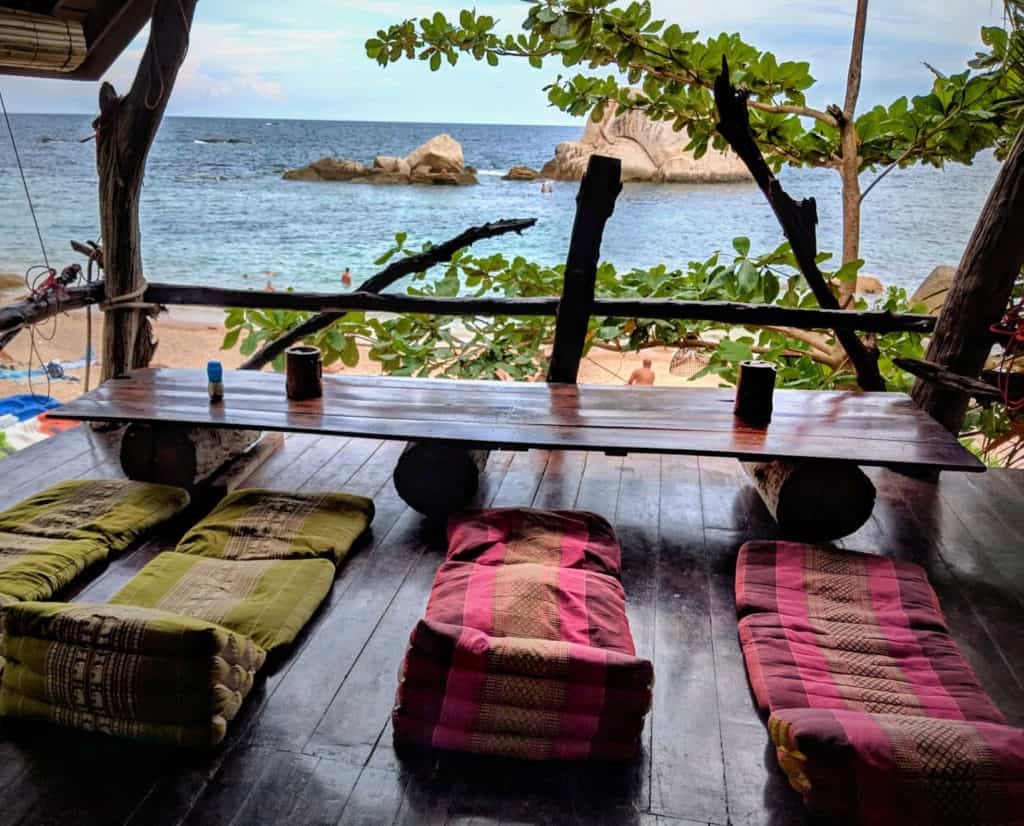 This tasty tip was one of our highlights during our Koh Tao stay. We called Joy the two nights before and booked the Half Day 3 hour cooking course where then she asked what our 3 favourite Thai dishes were. With no questions asked, we created 3 of our favourites + a bonus Banana Coconut Milk dessert. She is very thorough and has a goal of everyone being able to make the dishes at home as well. All recipes she puts on her website too! Needless to say, we made a ton of Thai dishes when we got back from our Thai Vacation!
About the Chef:
Joy is born and raised in Thailand. She started out cooking with her mother in order to gather income and support her family. She then decided to start her own Noodle Soup Street Food Stall which is quite the competation as only the stalls with the tastiest food survive. Hers did survive and helped her with her money situation. She was able to sell her Food Stall and travel the world and teach how to cook Thai food along the way. This became a passion of hers and she stuck with it. She has now ended up in beautiful Koh Tao and loving sharing the experiences of Thai cooking in her own, gorgeous home.