London is a place where you can wander around and find the coolest places to eat & drink. One of my favourite things about London's eat & drink scenes is that every place you go to is different and has their own personality. On our last visit to London, we did a bit of Bar and Cocktail hopping and came up with a list of the must-see & must-go-back-to Bars. I hope you enjoy the recommendations provided! There are still a lot more places to explore, and I promise this is a list I will continue mixing & adding on to!
Mr Fogg's Society of Exploration
Cocktail Bar
Location: 1A Bedford St, Covent Garden, London WC2E 9HH
Price Range: ££
Mr. Fogg's is an incredibly well-known cocktail bar as they have 6 different locations and each of them feature a completely different experience ! We have yet to explore the other 5; however, after our amazing and delicious experience at Mr. Fogg's Society of Exploration, we know which cocktail bars are first on our list. Their goal is to transport you back to the Victorian Era serving award-winning cocktails with rare spirits! Simply amazing.
Inside Scoop: Save room for a small bite to eat as their food is amazing too AND don't forget to check out their Typsy Afternoon Tea at Mr. Fogg's Gin Parlour.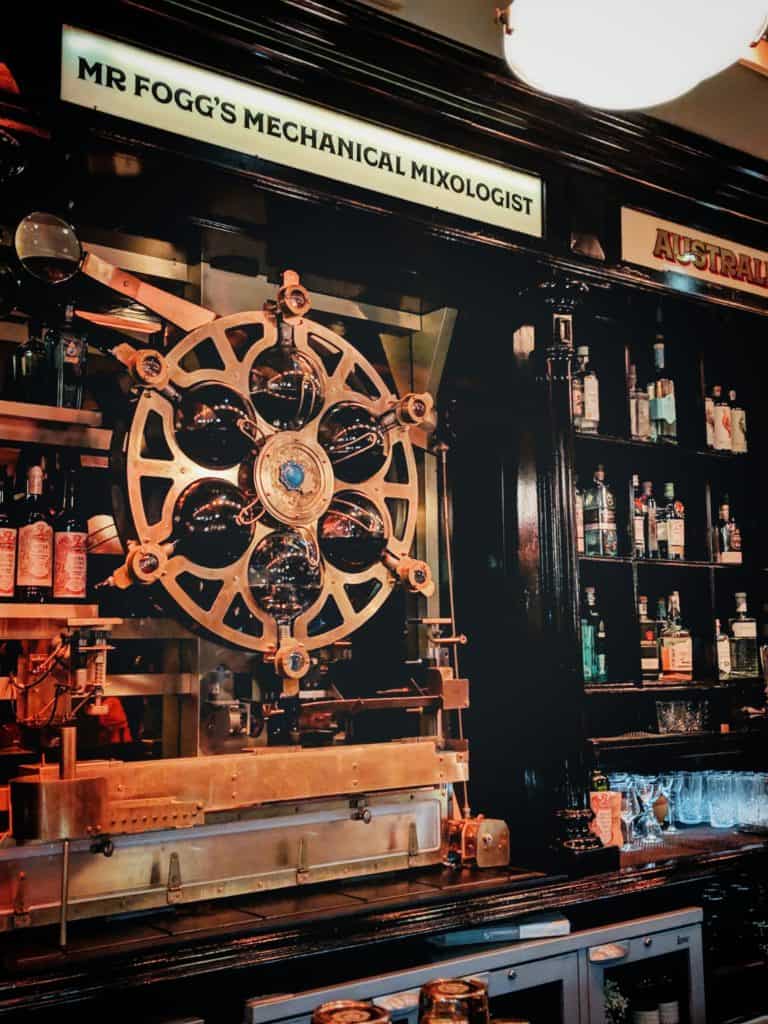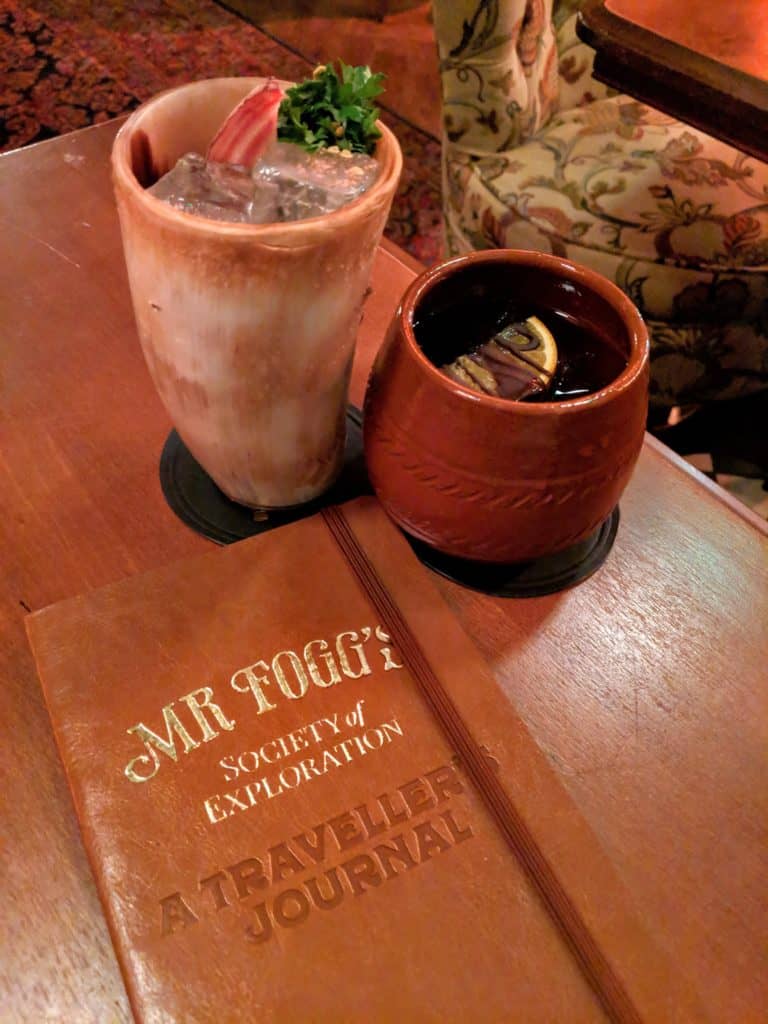 Seasonal Cocktails + Dim Sum
Location: 15-16 Gerrard St, London W1D 6JE, UK
Price Range: £££
This 1920's Shanghai Themed Cocktail Bar was one of our highlights from our local guided food tour. Found in Chinatown through a black door and up multiple steps, this hidden secret is a great place for a cocktail & scrumptious dim sum! Reserve a spot and you will definitely not be disppointed.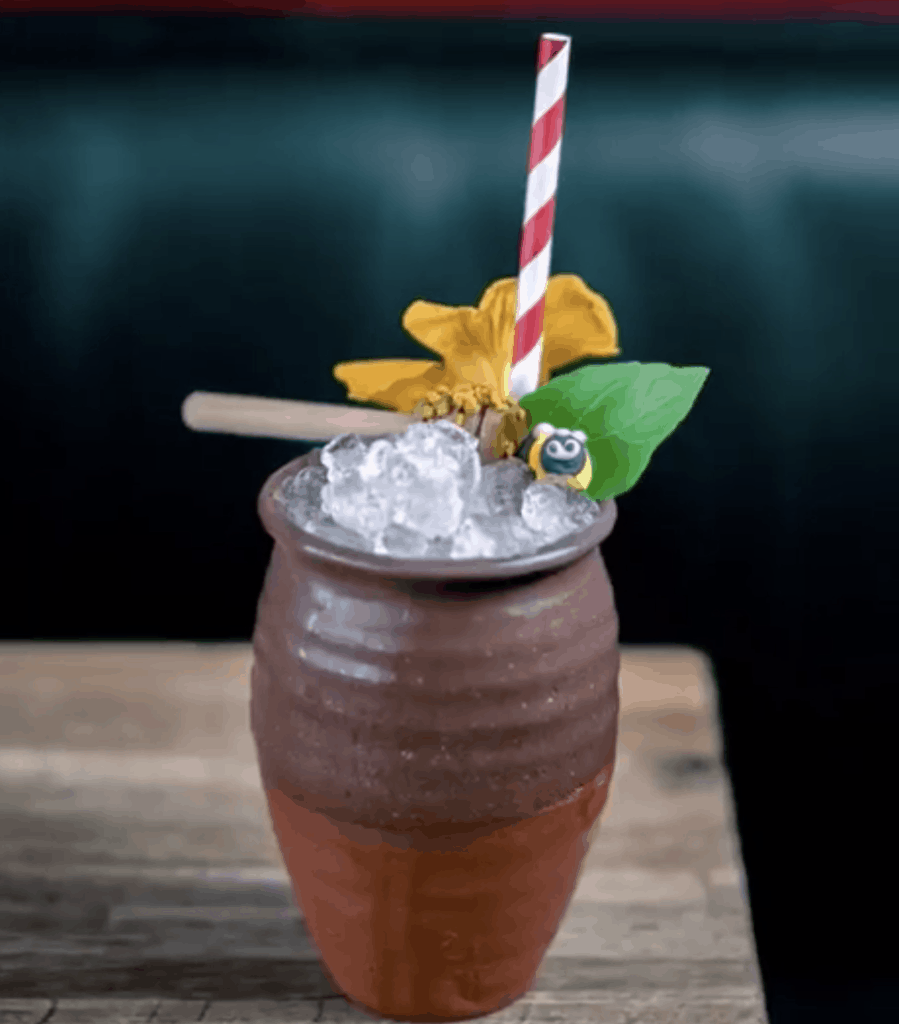 Cocktail Bar
Location: 6 Bevis Marks, London EC3A 7BA, UK
Price Range: £££
The cocktail menu is by far one of the coolest we have ever seen. Not only are the cocktails unique and electric, but they are each alchemy&scientific-themed. It is a blast to watch them create your cocktail as it is a true art. The amusing cocktails taste exceptional, it is hard to choose just one. Expensive? Yes. Worth it? Definitely.
Speakeasy Cocktail Bar
Location: 310c, London SW5 9BA, United Kingdom
Price Range: £££
My husband and I love speakeasys! And honestly, I do think this one tops them all! I am not going to give you all the details because the mystery is part of the fun, but be prepared to book in advance & think of a crime to tell the detective who will be patiently waiting for your arrival and ready to crack your case! For example, I went with my husband and said that I had a stalker on my hands and that the man kept calling me his husband… the detective was able to crack the case right as we were leaving. So funny! Great cocktails, delicious food & a bit of acting… this is a fun spot!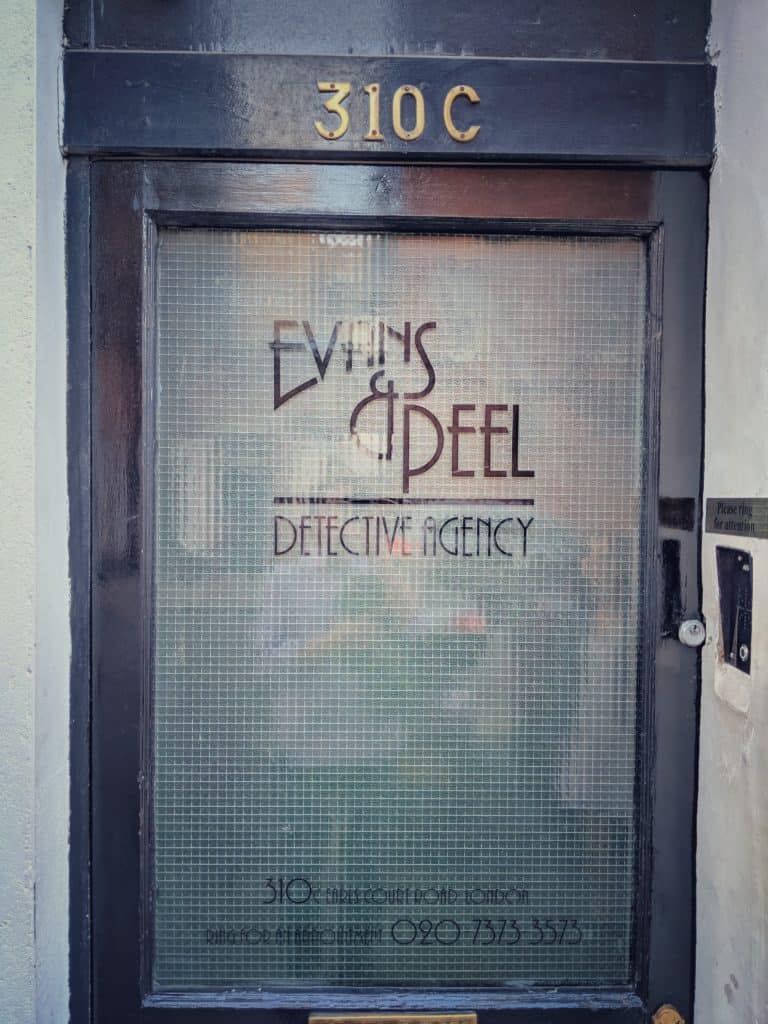 Unique Cocktail Bar
Location: 49 Hackney Rd, London E2 7NX, UK
Price Range: ££
The Looking Glass Cocktail Club has a variety of exquisite & innovative cocktails in a relaxed and chill atmosphere. The menu and recipes are Alice & Wonderland inspired. You will see that even a few waitresses are dressed up for the theme! We had a lovely night cap here and would definitely recommend it to anyone.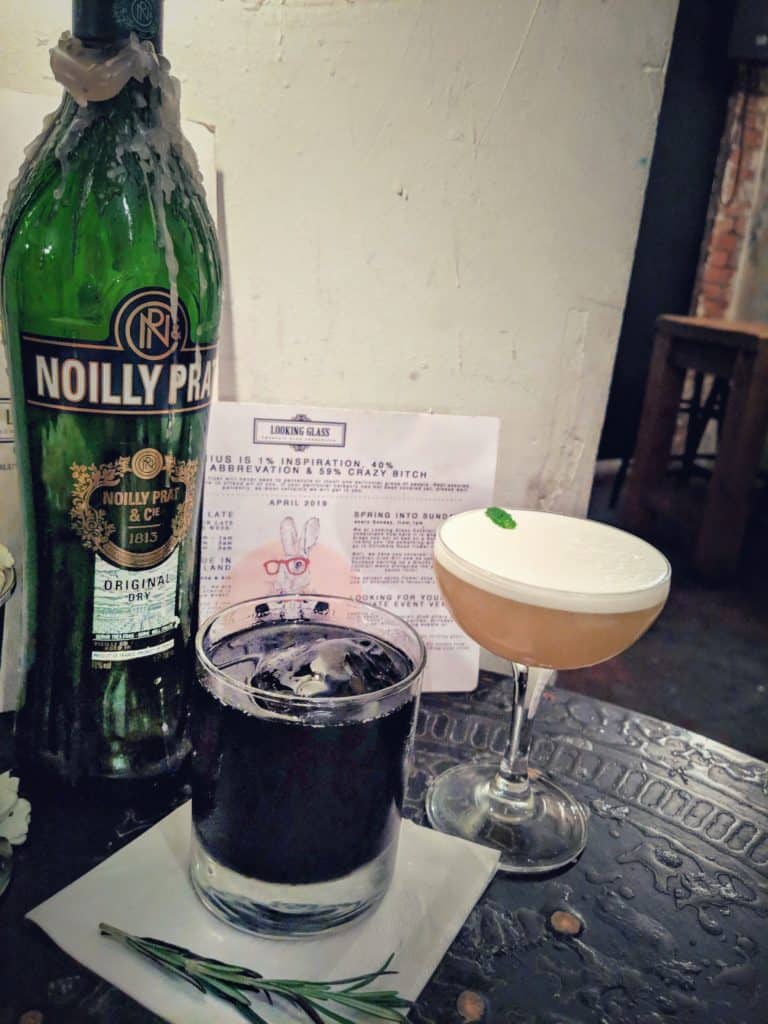 Location: 26 Osborn St, Shadwell, London E1 6TD, UK
Price Range: ££
This industrail-chic bar is the perfect place for a pre-drink before exploring one of the amazing restaurants on Brick Lane. Apples & Pears bar has a wide selection of classic cocktails with a modern & delicious twist! The decor is quite tendy with pop art & they have a lovely garden terrace. Welcoming people, brilliant music, superb drinks… if you are around the area, go!
Gin Cocktails
Location: 22 Great Chapel St, Soho, London W1F 8FR
Price Range: ££
We were lucky enough to have visited The London Gin Club with a local via a London Food Tour. It was one of the highlights of the tour! They presented us with a selection of Gins and Tonics mentioning that the Tonic is even more important than the Gin because it enhances the Gin flavours.
Tasty Tip: They have the most amazing homemade pies! Enjoy one while you taste your exquisite G&T
Wine Bar
Location: 47 Villiers St, Charing Cross, London WC2N 6NE, UK
Price Range: ££
My husband and I are wine enthusiasts! When a close friend of mine found out we were traveling to London, she told me we had to check out this wine bar. I am so happy we did. With Dickensian-style decor and within a cozy candle lit caved-cellar atmosphere, this is a great place to enjoy a glass of wine or two.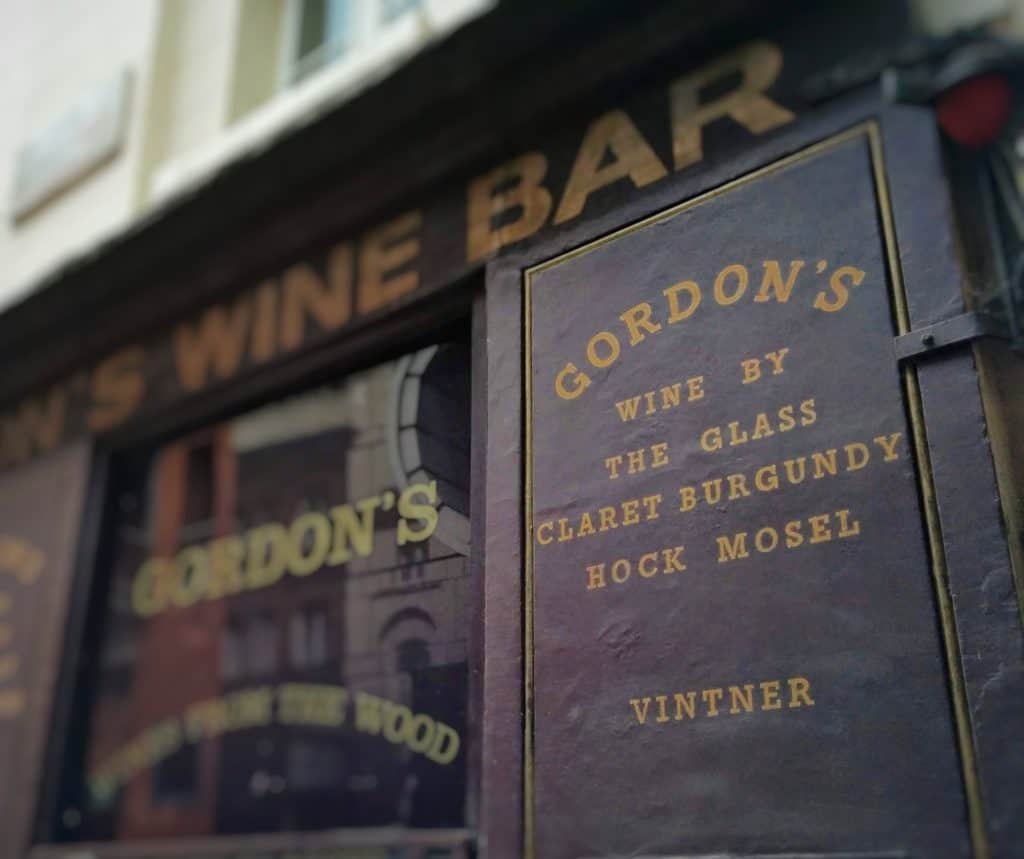 Beer Store & Bar
Location: 43 Brick Ln, Spitalfields, London E1 6PU, UK
Price Range: £
This place was happily found by wandering down Brick Lane. The name and the vibe the bar was displaying let us to pop our heads in and grab a beer. Kil the Cat is selling 150+ beers and it is constantly changing! They offer bottles that you can buy or glasses that you can enjoy while exploring all the variety of beers you have never seen before! For all those beer lovers, this is quite a cool place to go! 5 beers were on Tap when we arrived.
Prison Cocktail Bar
Location: 212 Brick Ln, London E1 6SA, UK
Price Range: £34.99
Okay, I am not going to lie. I have never been here before, BUT I do wish I knew about it before wandering down Brick Lane and asking a woman what everyone was in line for. This place takes every Hollywood Prison Movie and places it into reality. You are encouraged to 'smuggle' you spirit of choice, you will change into a prison outfit… and the mystery continues for an 1 hour and 45 minutes from there. 4 cocktails will be created from your spirit of choice. Other than that, the suspense will have to continue until I go… or I may just leave the article like this because I do think that is part of the fun!