London has an overwhelmingly amount of fantastic restaurants for all occasions! One of the main reasons my husband and I love traveling to London is to explore, taste and smell all of what London's unique and trendy restaurants has to offer! I hope my ongoing recommendations help you choose one of London's many fantastic places to eat!
Brunch
British & European Cuisine
Location: 110 Bishopsgate, London EC2N 4AY, UK
Price Range: £££
This 24 hour restuarant is located on the 40th floors with floor to ceiling windows overlooking London City. Whenever we visit London, Duck and Waffle is the place we always come back to and love to share with others. The people are friendly, the food is fantastic and the view is impeccable. what more could you ask for.
Insider tip: Open 24h, but amazing for breakfast at sunrise Reserve online in advance!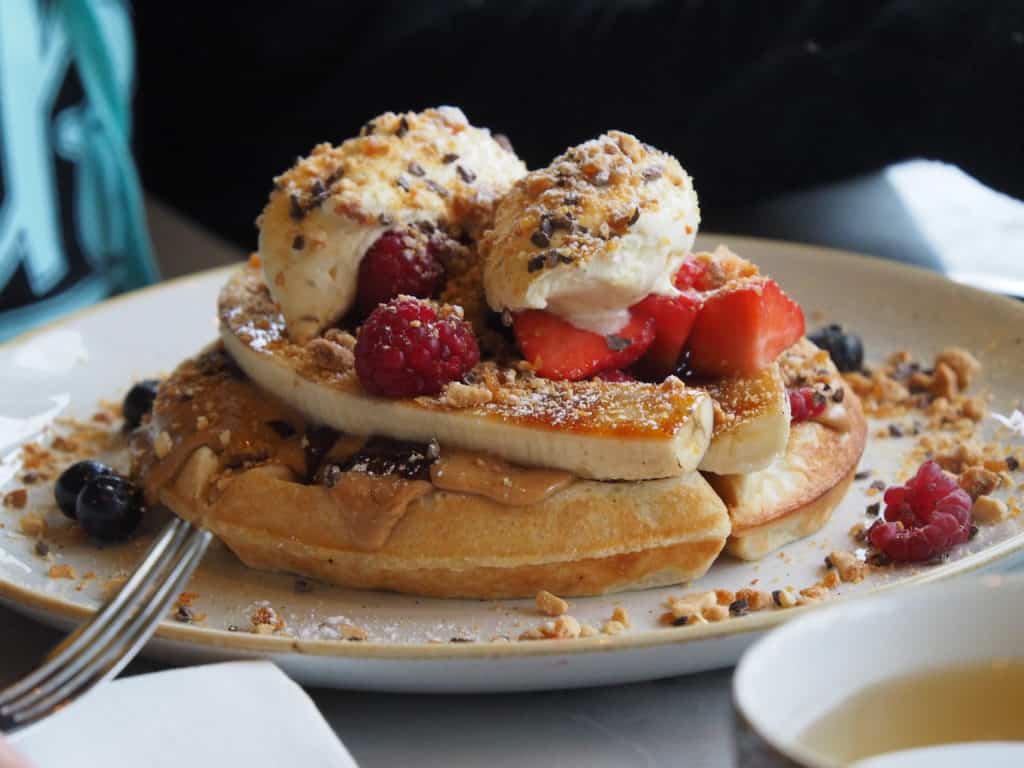 Lantana
Australian Café & Restaurant
Location: Oliver's Yard, 55 City Rd, Old St, London EC1Y 1HQ
Price: ££
I wanted to surprise my husband with an amazing brunch on our first day in London. I am going to tap myself on the back, because I found a great one! Located in 3 locations (Shoreditch, Fitzrovia & London Bridge), this restaurant offers fresh and clean-eating tastes to start your day off just right! They have an amazing selection of unique and different breakfast recipes that you just won't find in other places! Go and enjoy! I know I can't wait to go back again!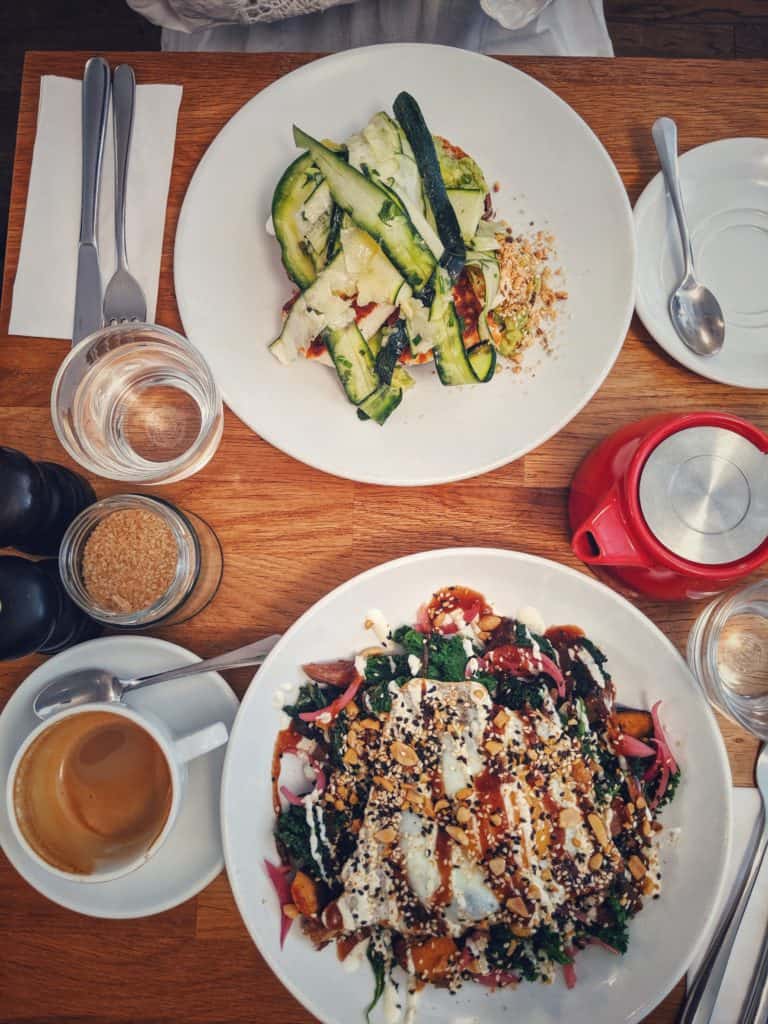 European Restaurant
Location: 43 Grt Titchfield St, Fitzrovia, London W1W 7PQ, UK
Price: ££
Riding House Café is another fantastic brunch option. With the retro-styled atmosphere and classic brunch options including buttermilk pancakes, french toast, eggs benedict & full English, Riding House Café makes for a great place to start the day. They have two other sister cafés including Rail House Café & Village East.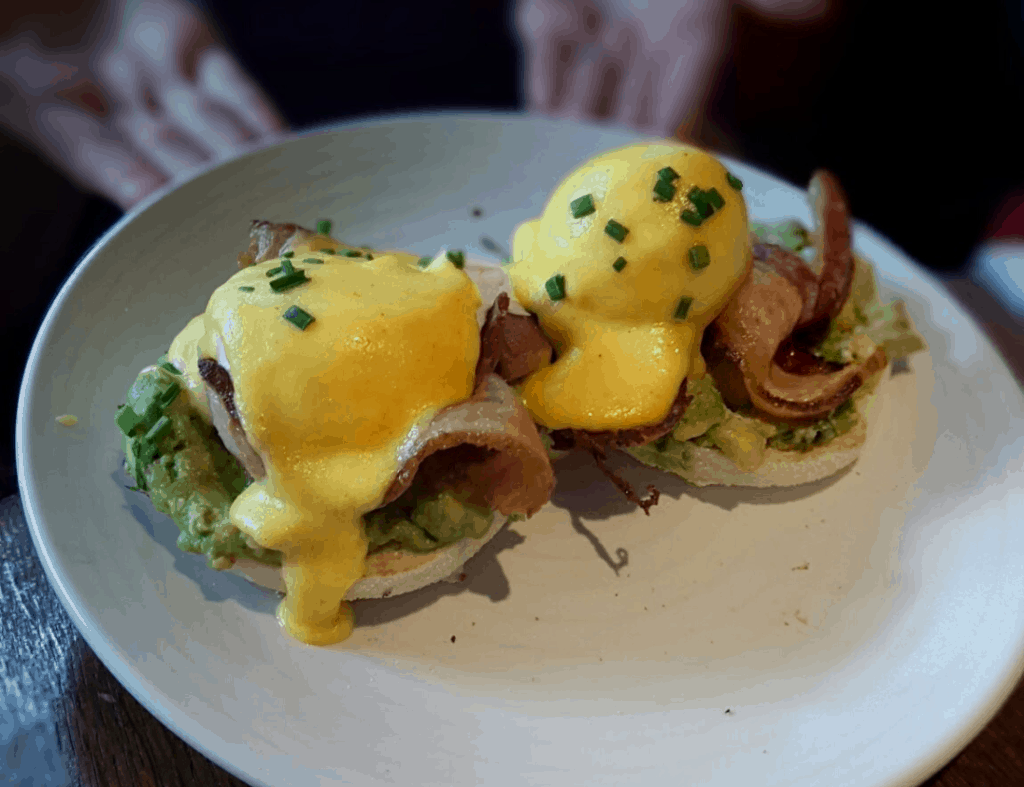 Lunch/Dinner
Wholesale & Retail Food Market
Location: 8 Southwark St, London SE1 1TL, UK
Price Range: ££
I am sure you have heard about the Borough Market; however, its too good not to put it on the list! It is a place you can get easily overwhelmed as all the food looks and smells amazing! You are going to want to try everything! I recommend wandering around and observing first, then choosing your top 3 things to try! Here is what we like at the Borough Market:
Insider Scoop: Closed on Sunday, Monday & Tuesday)!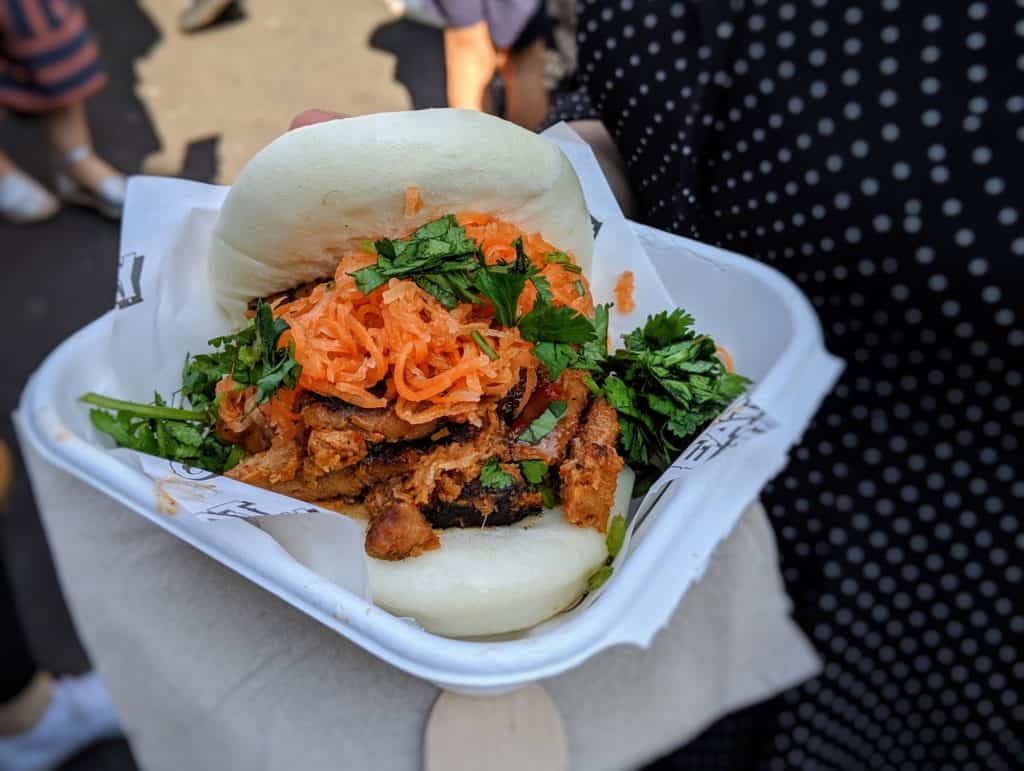 Wine Bar + Gourmet Hot Dogs
Location: 70 Charlotte St, Bloomsbury, London W1T 4QG, UK
Price Range: ££
Yes! Gourmet Hot Dogs & Champagne… Best. Idea. Ever. We heard of this unique place by fellow wine & food enthusiasts. It was the first place we ever ate at in London, and what a perfect one to have! With options of pork, beef and veggies gourmet hot dogs paired with champagnes, this is a great dinner spot (open mostly in the evenings)!
Insider Scoop: They are closed on Sundays & Mondays
Homemade English Pies & G&T
Location: GV88+56 London, United Kingdom
Price range: ££
We were lucky enough to have visited The London Gin Club with a local via a London Food Tour. It was one of the highlights of the tour! They presented us with a selection of Gins and Tonics mentioning that the Tonic is even more important than the Gin because it enhances the Gins flavours. But what we loved most was their homemade pies. Their pies disappeared for a while, but because of popular demand, they are back and we couldn't be happier!
Tasty Tip:
The London Gin Club has 1.5 hour tasting events for £32 per person
Bakery + Wine + Meat
Location: 96 Commercial St, Spitalfields, London E1 6LZ, UK
Price Range: ££
This was another good find thanks to our Local guide on a London Food Tour. After our first bite of the simple, yet amazing pork sandwhich, we were hooked and starred it on our map straight away. This place has quite the story with starting as a bakery, then selling wine in which their guests would end up buying their delicious bread and sip on wine lending itself to become a restaurant. Go here and enjoy a 2 or 3 plates of small sweet or savory bites!
Insider Scoop: They offer corkage. This means if you have a nice bottle of wine you would like to bring, they charge £25.00 per bottle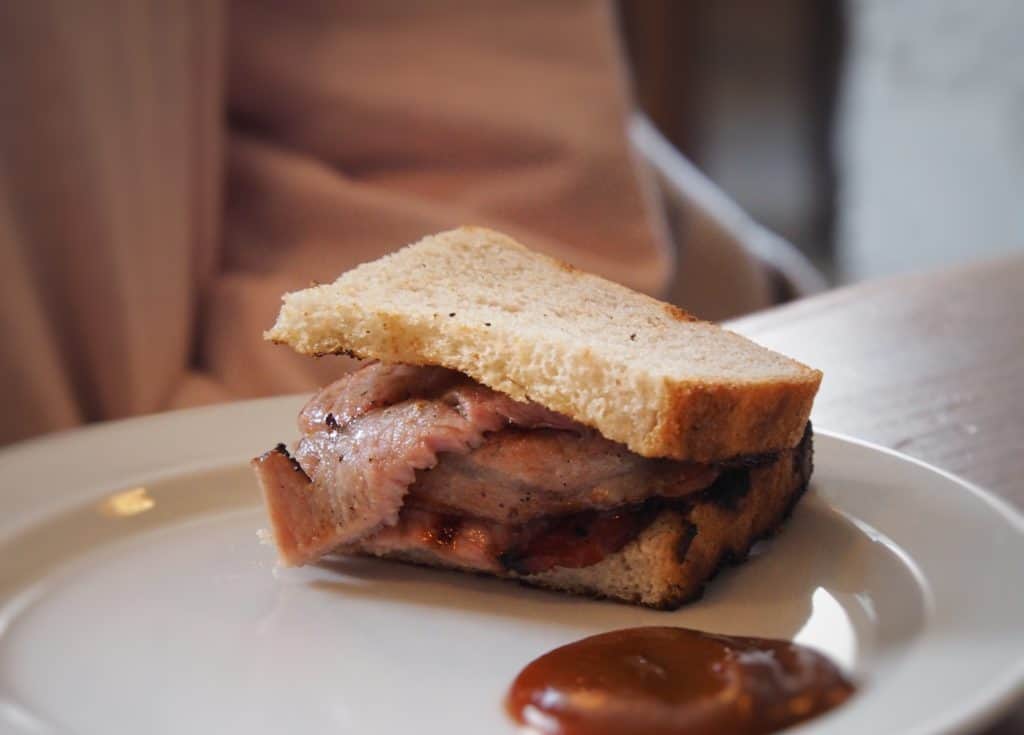 Barbeque Restaurant
Location: 48 Commercial St, Spitalfields, London E1 6LT, UK
Price Range: ££
Hot Box was a fantastic find by… me! I love researching new places to go and this is one place that looked absolutely amazing, and trust me, it is! Hot Box dry rubs their meat and cooks it slowly in order to get the perfect tenderness that literally melts in your mouth. They are true BBQ masterpieces. This is a place I know we will go back to every. single. visit!
Japanese Restaurant
Location: 30 Argyll St, W1F 7EB, London W1B 3BR
Price Range: £££
Located on the 5th floor, this place has a stunning roof top terrace to enjoy a drink before tasting the exquisite tastes Aqua Kyoto has to offer. It has high quality food with fresh fish and hot plates. It is on the more expensive side, so I would recommend going here for a special occasion, but it is definitely a meal & ambience worth experiencing.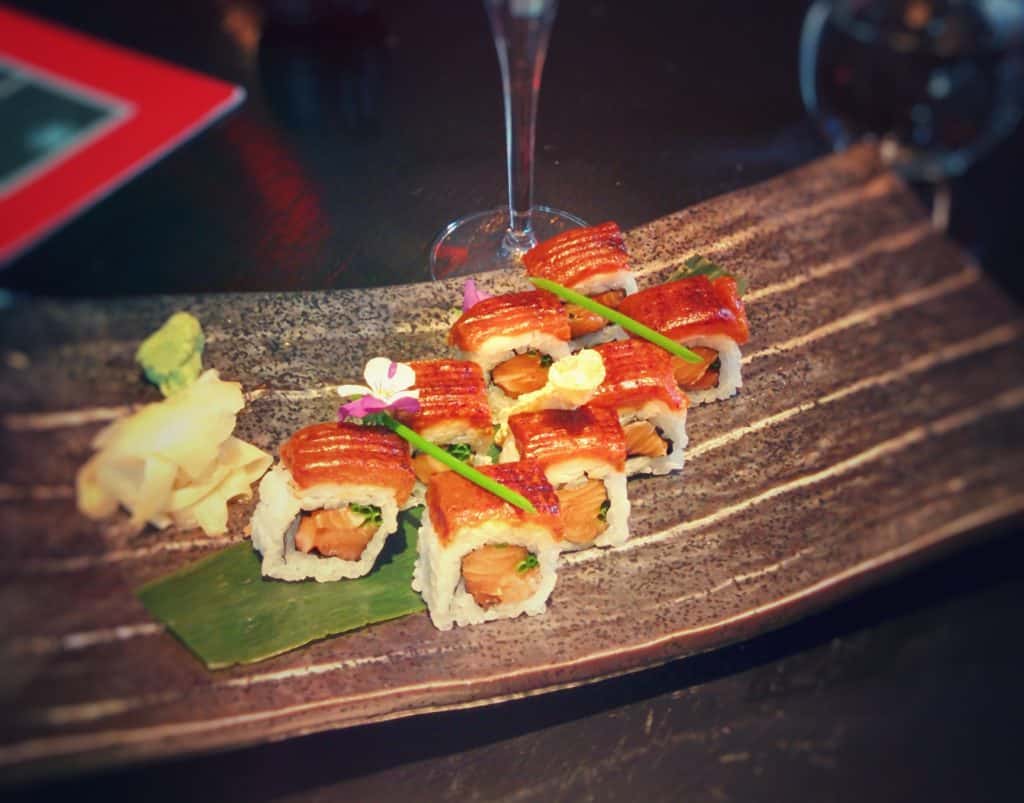 Dessert
Ice Cream
Location: 54 Greek St, Soho, London W1D 3DS, UK
Price Range: ££ – £££ (depending on what you get)
I found this ice cream shop through a fellow Londoner Foodie. She always makes me jealous by sending me photos of Chin Chin's smooth and creamy ice cream. They offer a variety of flavours that will suit anyone and everyone. The menu is constantly changing, which is so nice to go back to and try the new delicious flavours!
Inside Scoop: Located in SOHO and Camden Market
Chocolate Artisan
Location: 41 Broadwick St, Soho, London W1F 9QL, UK
Price Range: ££
This was another great find thanks to our Local Guide on a London Food Tour. Best hot chocolate in London with its rich, thick & creamy texture, you can't go wrong on a cool fall or winters day… a must have! They also offer fantastic sweets & cakes! If you have a sweet tooth, this is a place you can not miss!