Kreis 4 is an edgier part of Zurich. Second hand shops will be surrounded by international cuisine, unique cocktail bars and nightclubs! Langstrasse was once the areas red light district! A great place to wander for good eats and seeing original shops & and maybe even an indie or art-house movie. But first, food! Here are the places I find I keep coming back to when wandering around Kreis 4, Zurich.
The Bite Gourmet Burger Restaurant
Burgers
Price Range: $$
Ironically enough, the bite was mentioned to me by a Swiss vegetarian! She loved how to vegetarian option was a Halloumi Burger and mentioned that the 'Animal Fries' were a must try. So, I went with her and enjoy every last bite of my meat burger! This is a great place for lunch or dinner. Great atmosphere and fantastic & energetic people. The Bite Restaurant is also part of the family from 'YardBird Southern Fried Chicken' and 'The Brisket Southern BBQ'. Also amazing places to check out.
Recommended Dishes:
Classic: Cheddar, caramelized shallots & garlic aioli Fr. 26
+
Animal Fries: French Fries, thousand island sauce, cheddar cheese & roasted shallots Fr. 9
Hongxi
http://www.hongxi-restaurants.ch
Chinese Restaurant
Price Range: $$$
We stumbled upon this lovely restaurant through a Zurich Food Tour we joined. They brought us here mentioning they have the best and most authentic Chinese dumplings in Zurich. When we had our first bite or dumpling goodness from Hongxi, we knew we would want to come back for more. We were also curious to try the main dishes, which did not disappoint at all either!
Recommended Dishes:
Duck & mushrooms dim sum 3stk Fr. 16
+
Fried lobster dumpling 3stk Fr. 18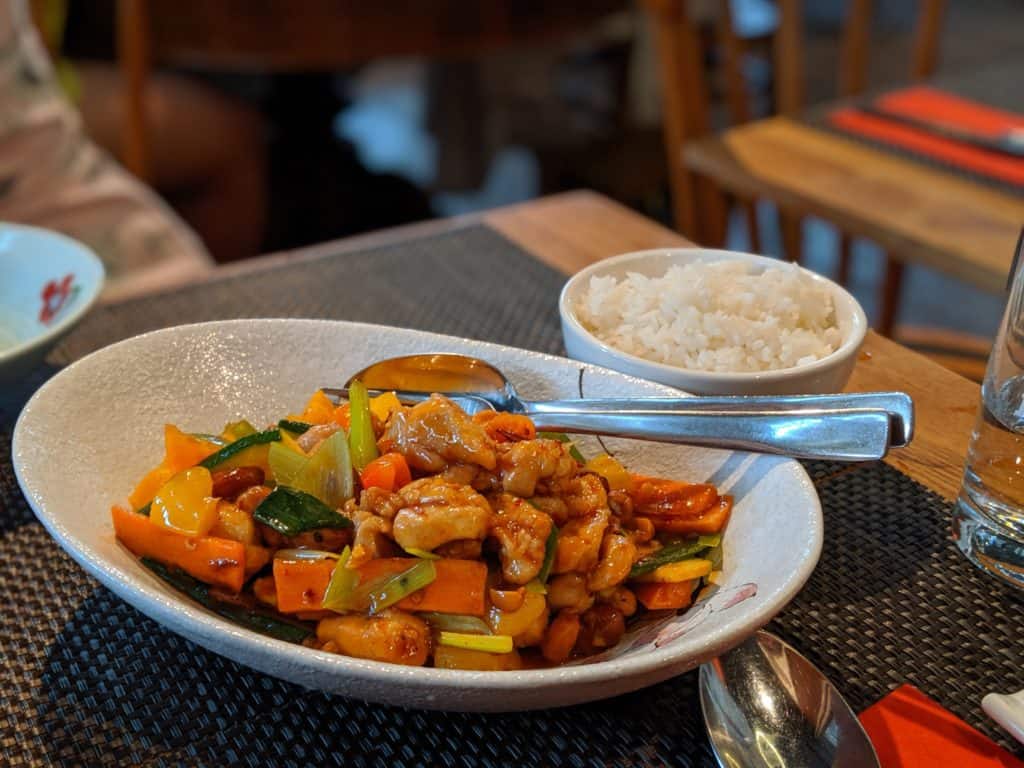 Meat.Me Steakhouse
Steakhouse
Price Range: $$
My husband and I just got back from a trip from Argentina. The amount of steak and Malbec we had there was sensational. So, of course, coming back to Switzerland, we started to have 'I need GOOD steak' cravings. We tried 2 before finding Meat.Me Steakhouse. Yum! This place is simply amazing! It is one of those places where they show you the meat before putting it on the grill (which is right in the restaurant so you can see them do the flips and turns)! They have high quality meat and a great selection of wines. Very smart and welcoming people as well!
Recommended Dish:
Lomo de Argentino: Best beef fillet grilled on the piece, served with 4 side dishes and 4 sauces of your choice Fr.149 total
Le Cédre
Lebanese Cuisine
Price Range: $$$
I was first invited to this beautiful restaurant for my Swiss Friends birthday. I have never heard of the place, but she told me I would love it! Not only did I love it, but I even took my husband there the next day because I knew he has to try! Le Cédre has a gorgeous layout that truly makes you feel as if you are in the Middle Easy. They serve traditional mezze & grilled meats, something for everyone to enjoy. Come with a group or for a romantic evening date! Oh, I did forget to mention, they also have Belly Dancers show off their talents!
*They do have another spot in Bellevue, but I would really recommend going to the address in Badenerstrasse, it is gorgeous.
Recommended Dish:
Mezze Platter for 2 – 7 plates Fr. 73.50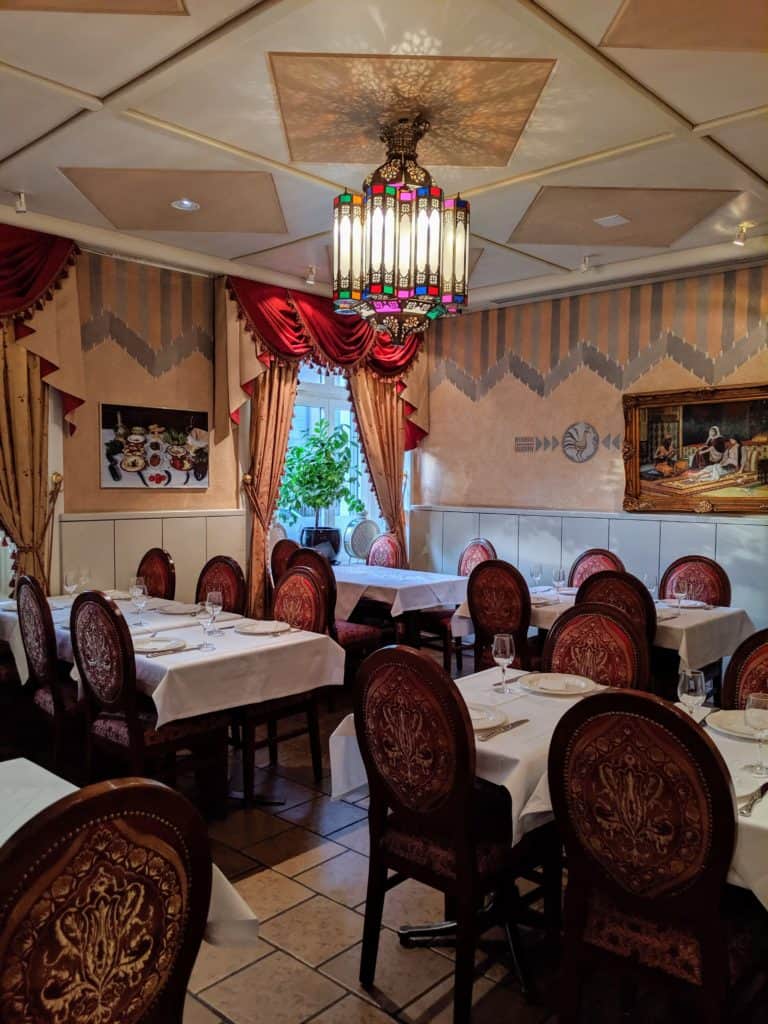 Yen's
Asian Restaurant
Price Range: $$
Knowing how much of a foodie I am, I am very lucky that my husband likes to do a bit of research and surprise me with date nights. We were on a sushi kick when he surprised me with Yen's. Yen's provides authentic and traditional sushi, noodles & dumplings plus wine & sake. The decor creates a gorgeous and calming environment feeling as though you have just traveled across the world. A great place for a light lunch or a romantic date night, I can fully recommend Yen's.
Recommended dishes:
Sushi/Sashimi Plate: Fresh Sushi/Sashimi-Platte with 21 Pieces Fr. 33.50
+
Grilled half Duck in Hoisin Sauce with Vegetables Fr. 35.50
La Taqueria
Mexican Cuisine
Price Range: $$
Mexican! Yes, yes, yes! If you were to ask any American Expat in Switzerland what they miss about the States, 90% of us would say Mexican Food! I am over the moon that this place exists in Zurich. It is the most authentic Mexican you can get in Zurich. Before opening up their shop, the owners searched high and low for the best ingredients they could find! The search was worth it as they found a small factory run by a Mexican family who imports to La Taqueria on a daily basis. These people aim for true Mexican or Southern Californian tastes not only with their tacos/quesadillas/burritos, but with their homemade salsa, sauces and tortilla chips. No Tex-Mex here, only perfection!
YUMA
Fusion Restaurant
Price Range: $$$
While walking through Kreis 4, this restaurant caught my eyes quickly as I could see through the gigantic ceiling to floor windows at the decor of this unique restaurant. With luscious green plants streaming from the ceiling, it was so incredibly welcoming. I booked a table to brunch the next day and haven't been disappointed ever since. With a mix of street food and international cuisine, this brunch menu is separated between countries. For example you have the Breakfast in Paris, or Nordic Breakfast or even Korean Style Breakfast… it is hard to choose when they are all so different! But if thats your biggest problem, life is good! Brunch is every Saturday from 10-15. I have yet to go for dinner, but the dinner menu and cocktail menu look amazing too!
Recommended dish:
Healthy Acai Bowl with blueberry, mango, kiwi and housemade Granola, Fluffy Pancakes with strawberries und coconutflakes Fr. 24.50
Lapinseria
Pizza. Pinsa
Price Range: $$
Spotted by my Italian Foodie, Lapinseria started to become a great lunch spot for us. Pinsa is a Roman baking technique dating back to over 100 years ago creating a fluffier and lighter oval shaped pizza. Eating pizza and feeling light? Yes, it exists here! La Pinseria is also part of the Presidio Slow Food organisation which helps you know how local and fresh the ingredients are. Come here for lunch with a friend or two or five and share with one another in order to get the chance to taste all the goodness!
Recommended dish:
Parma e bufala : Buffalo Mozzarella DOP, freshly chopped tomatoes, parma ham Fr. 28