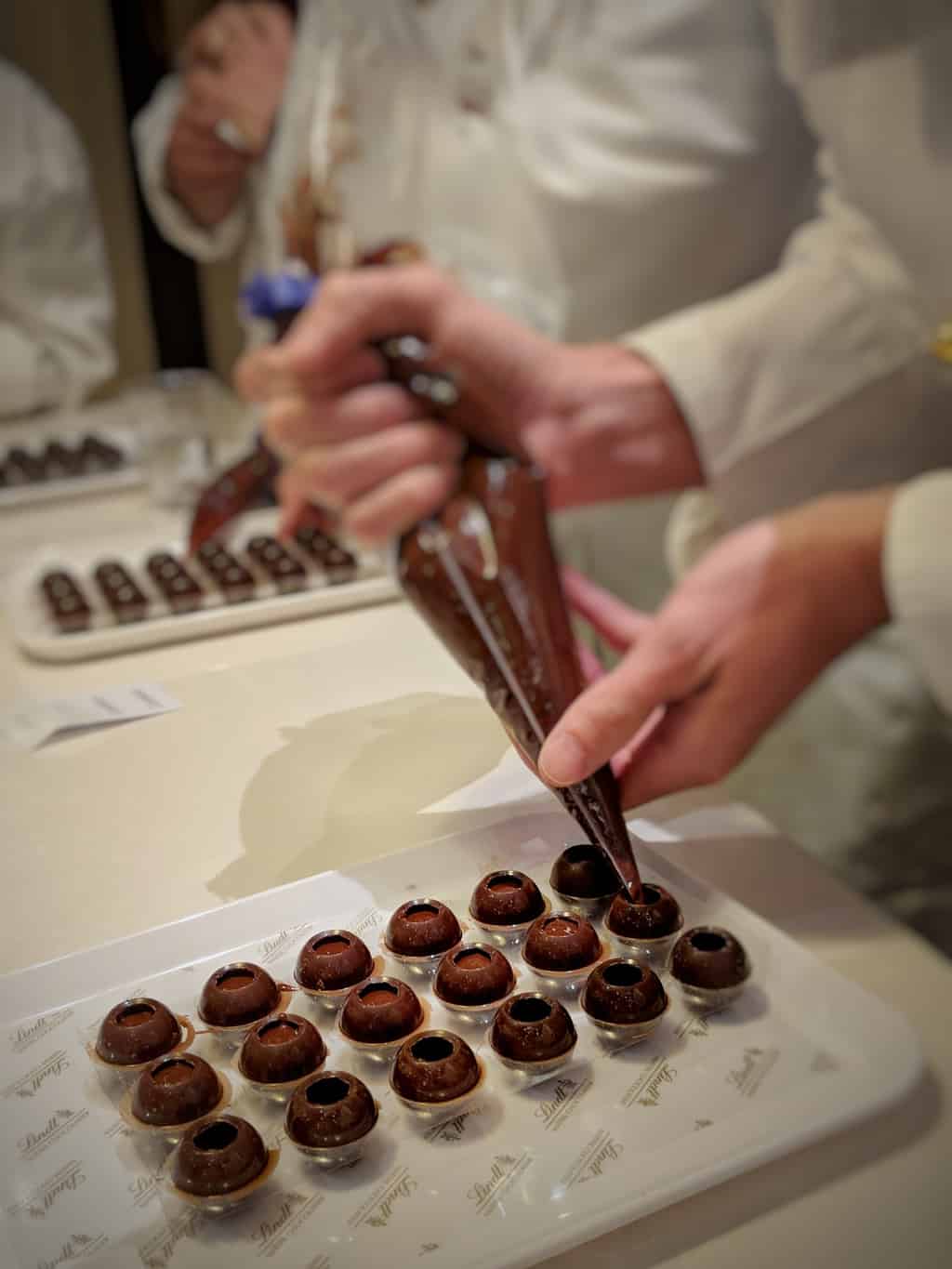 Switzerland has exceptional chocolate! My mother likes to think this is because Switzerland has very 'Happy Cows' living in such a gorgeous country. Whatever the reason, there is an abundance amount of options.
Here are my recommendations:
In a variety of locations including the airport & Zurich main st.
Price Range: $$$
Founded in 1962 in the Swiss Town of Glarus, this is one of my favourite chocolate shops in Switzerland! They offer a wide variety of packaged goodies for gifts or, of course, yourself as well as singular chocolate treats if you want to try a flavour or two or six. You have options with many sorts of truffles, chocolate kisses (wafer + marshmallow covered in chocolate) & chocolate blocks. It is expensive, so this is a chocolate I buy for my closest family and friends; however, it is completely worth it! It is that melt in your mouth, chocolate dream you will experience.
Tasty Tip:
Läderach Chocolatier also holds a variety of Chocolate courses, workshops and experiences. You will find all the information here: www.schoggi-erlebnis.ch/en/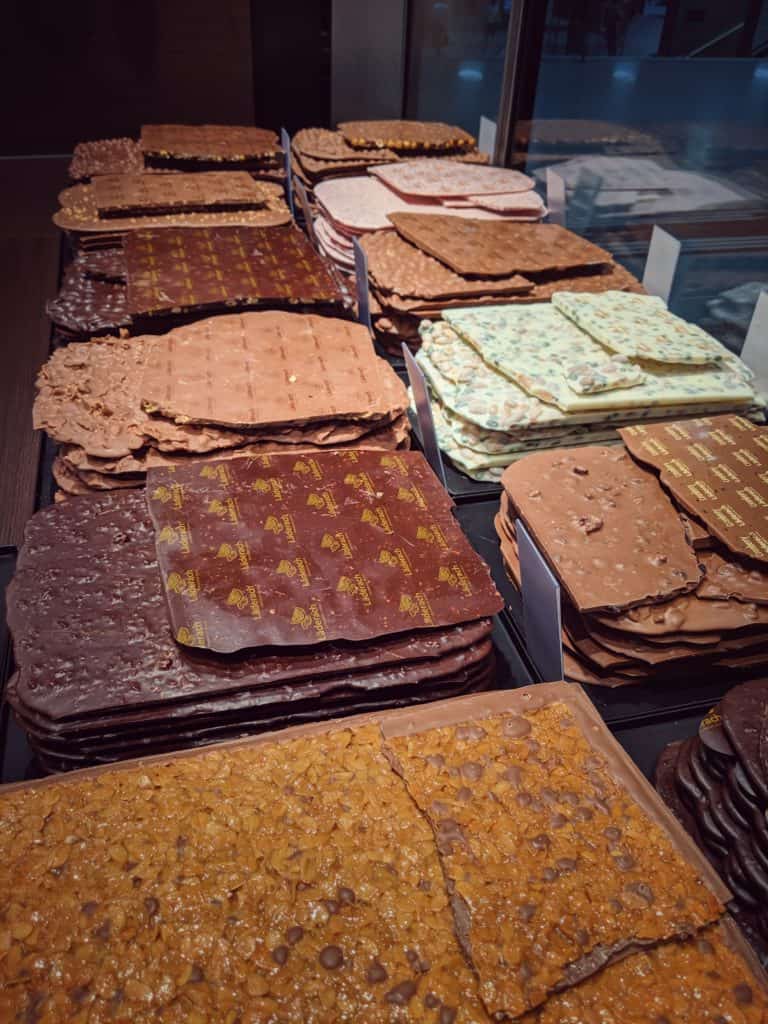 Location: Schlüsselgasse 12, 8001 Zürich
Price Range: $$$
Wow, what a special chocolate shop. Max Chocolatier is named after the owner's son, Max. Max grew up with delicious chocolate smudges on his lips and in 2009, a family dream came true of opening up 'Max Chocolatier'! They are very proud in using only the best ingredients in order to make the most delicious chocolate! They have seasonal chocolate flavours which makes this chocolate shop quite unique and worth checking out. Their ice cream, truffles & vegan options are superb! You won't regret visiting here.
Tasty Tip: Check out their website for a chocolate tasting and/or chocolate making course!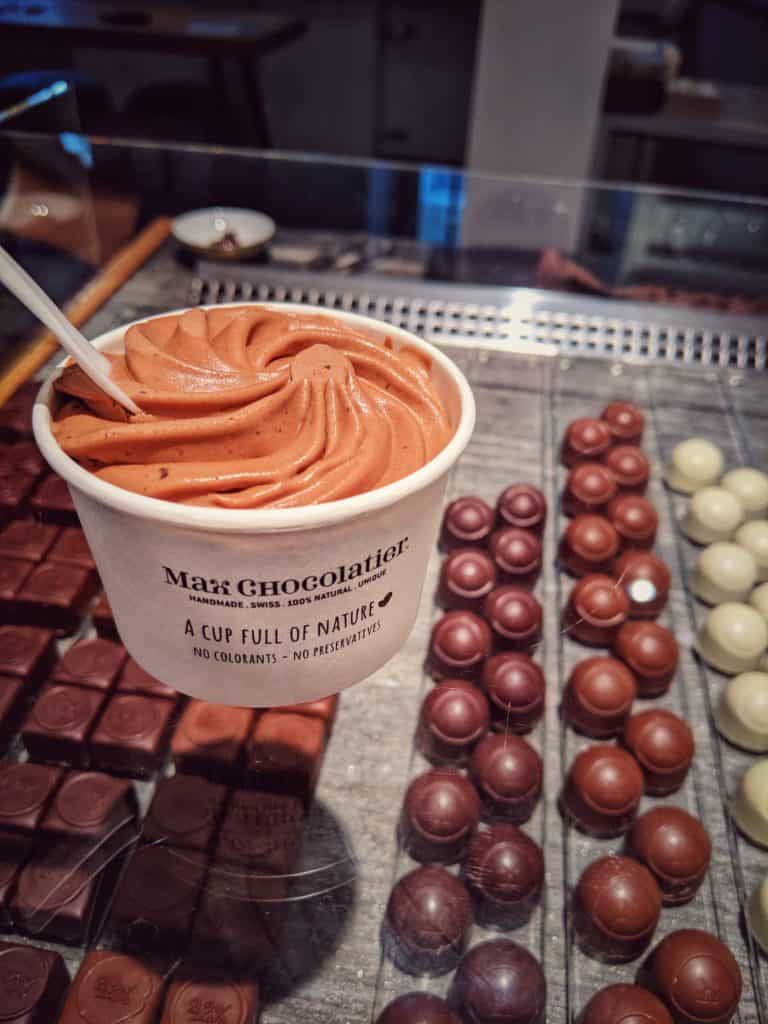 Location:
Bahnhofstrasse 46, 8001 Zh + Storchengasse 9, 8001 Zh
Price Range: $$$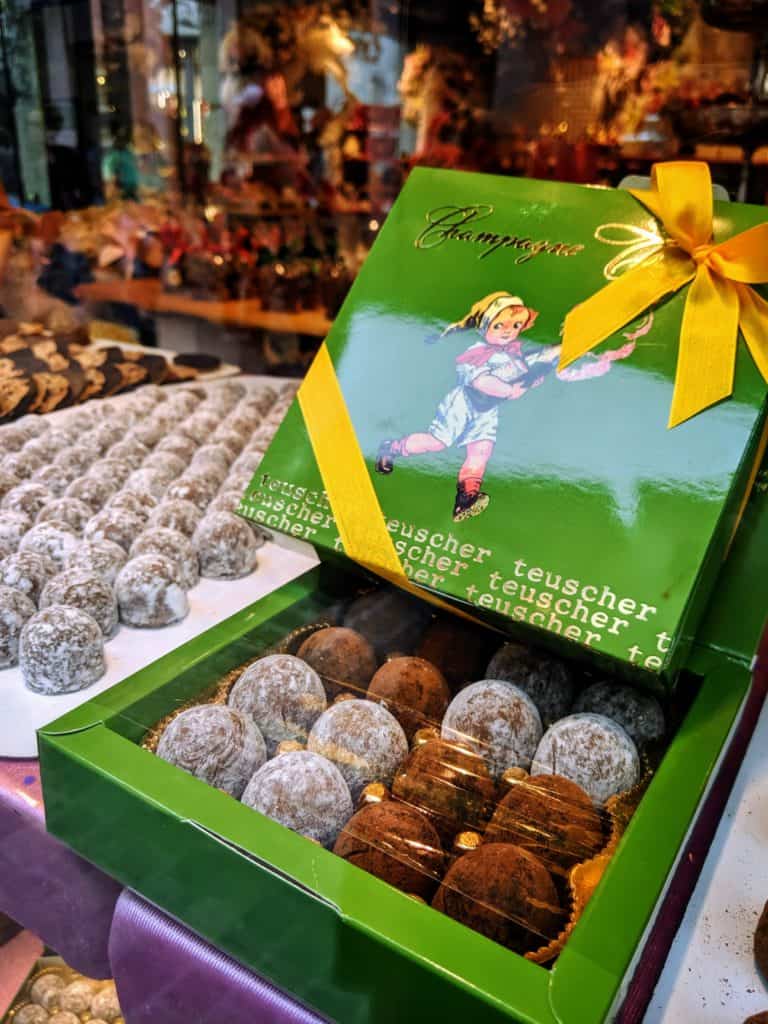 Champagne. Truffles! Yes, people… you must go here to buy their champagne truffles. There are many times when I happen to pass by their beautiful shops and I wander on in to buy myself and my man (for wifey points 😉 ) two dark chocolate champagne truffles and two milk chocolate champagne truffles. You can get them separately or in lovely packages. They do have other truffles too, so if you aren't into champagne, no worries, it is still a gorgeous chocolateria to check out! Another expenisve treat, but when in Switzerland, you must indulge in as much chocolate as you can!
In a variety of locations including the airport & Zurich main st.
Price Range: $$$
Yes, this gorgeous place also has amazing chocolates, bars, cakes (oh my goodness their cakes are amazing) & truffles to try, but they also have their famous Luzemburgerli Macaroons. These light & airy sweet treats were created in the 50's from a man who brought a recipe from his home country to the Sprüngli team in Zurich. The Luxemburgerli's come in a variety of flavours and is another great treat for yourself or for friends and family, but this is a must have. My family in Ireland love when I buy them a lovely package of these; however, the macaroons seem to vanish quite quickly!
Tasty Tip:
In the winter, Sprüngli have amazing hot chocolate! So take a break from the city sightseeing and enjoy a warm delicious treat
Location: Wühre 15, 8001 Zürich
Price Range: $$$
This place has quite a cool story. A friend of mine knows the man behind the shop, Dieter Meier. Using cold extractions, he has found a way to create chocolate in a natural way without adding any extra preservatives or sugar. So the chocolate you eat is directly from the cocoa bean. You can try a 90% dark chocolate and you won't have a bitter taste in your mouth. And the white chocolate doesn't leave a 'too sweet' taste either. It is fascinating!
If you want to buy a special someone something unique and different from all other chocolates, this is the place to go. Even if you are just curious, head on over as they do let you sample around 5 different tasty chocolates.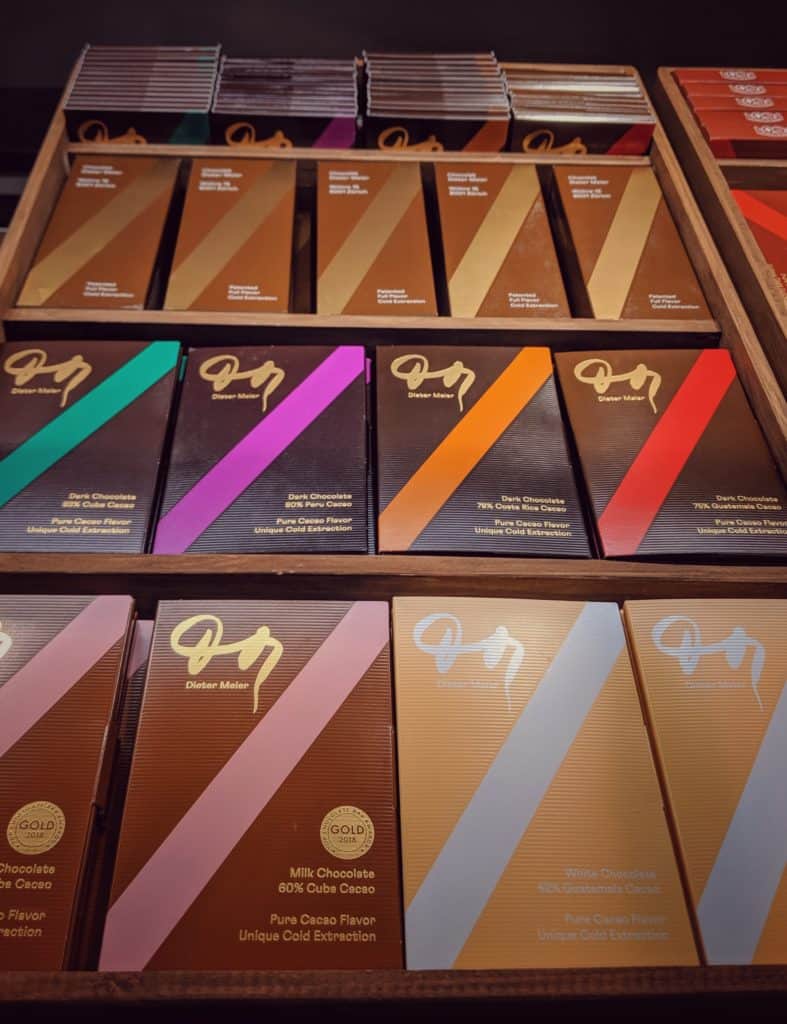 Location: Pilgerweg 58, 8802 Kilchberg
Price Range: $$
Now, everyone knows Lindt. It is coming the most popular Swiss Brand all over the world! Because of this, I don't recommend it as a gift for others when visiting, because nowadays, a lot of people can get it where they come from… which is awesome!
The Lindt Factory is worth going to though! They do have some things on sale that would not normally be. They also have two amazing experiences that I have mentioned below…
Lindt Chocolate Experience
On specific days, Lindt offers a Chocolate Experience for Fr. 40. The experience includes learning about Lindt through video and a guided Chocolatier, learning how to taste chocolate using all the senses. And then of course, they have a buffet of chocolate for you where you can taste as many as you would like.
Here is the website to check it out:
https://www.lindt.ch/en/die-welt-von-lindt/live-chocolate-experiences/lindt-swiss-chocolate-experience/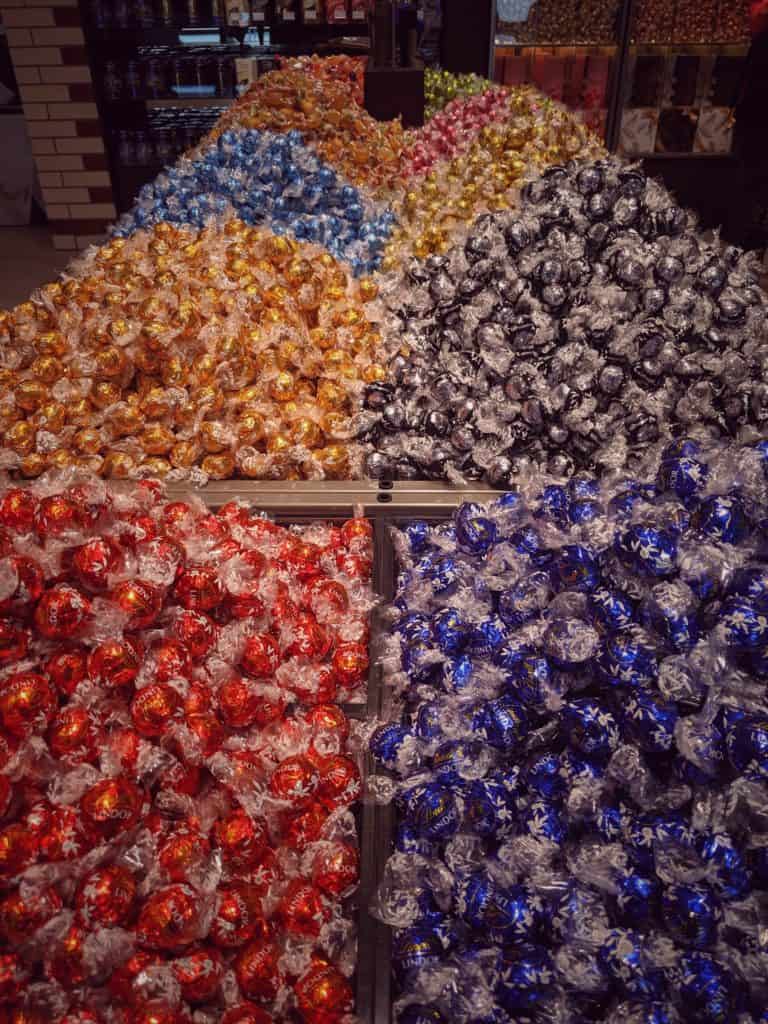 Chocolate Making Workshop with Lindt
Become a Chocolatier yourself for Fr. 75! On specific days mentioned on the website, you can dress up like a Lindt Master yourself and make scrumtious chocolate creations whilst indulging in chocolate that surrounds you. You keep all the chocolate you create! I have done this 4 times now with family and friends and I would do it again in a heartbeat!
Here is the link to see which dates you can become a Master Chocolatier youself:
https://www.lindt.ch/en/die-welt-von-lindt/live-chocolate-experiences/chocolateria/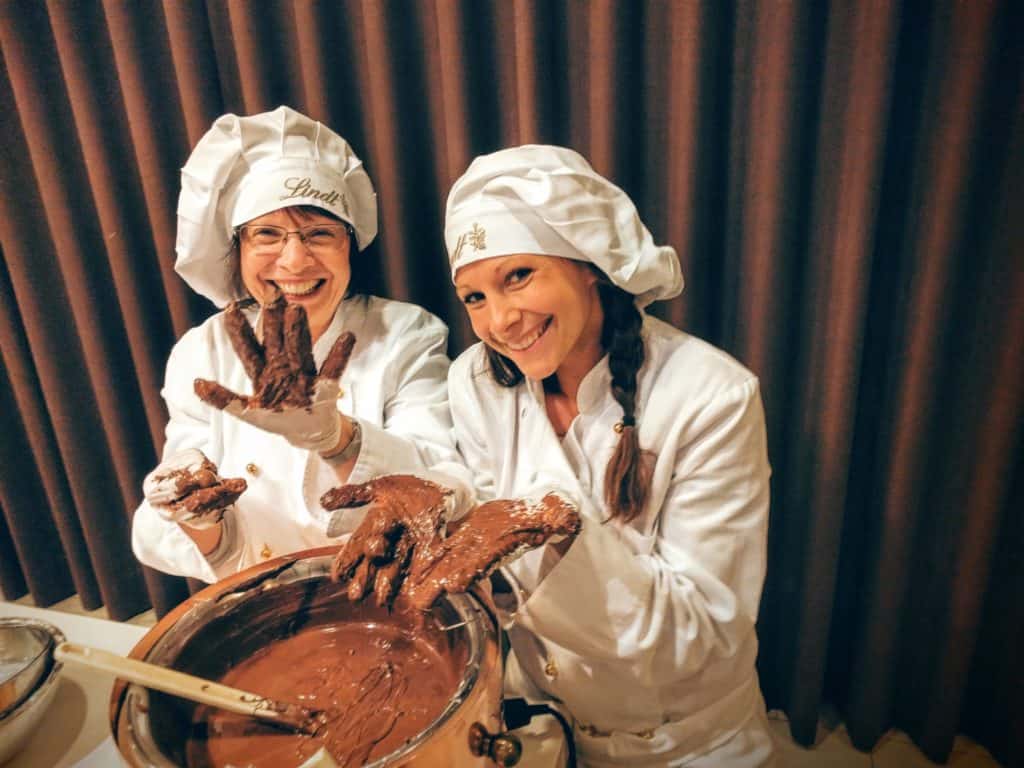 Location: Rue Jules Bellet 7, 1636 Broc
By Train: 3 hours from Zurich – 1hr20 from Bern
Price Range: $$ (Fr. 15 for Tour)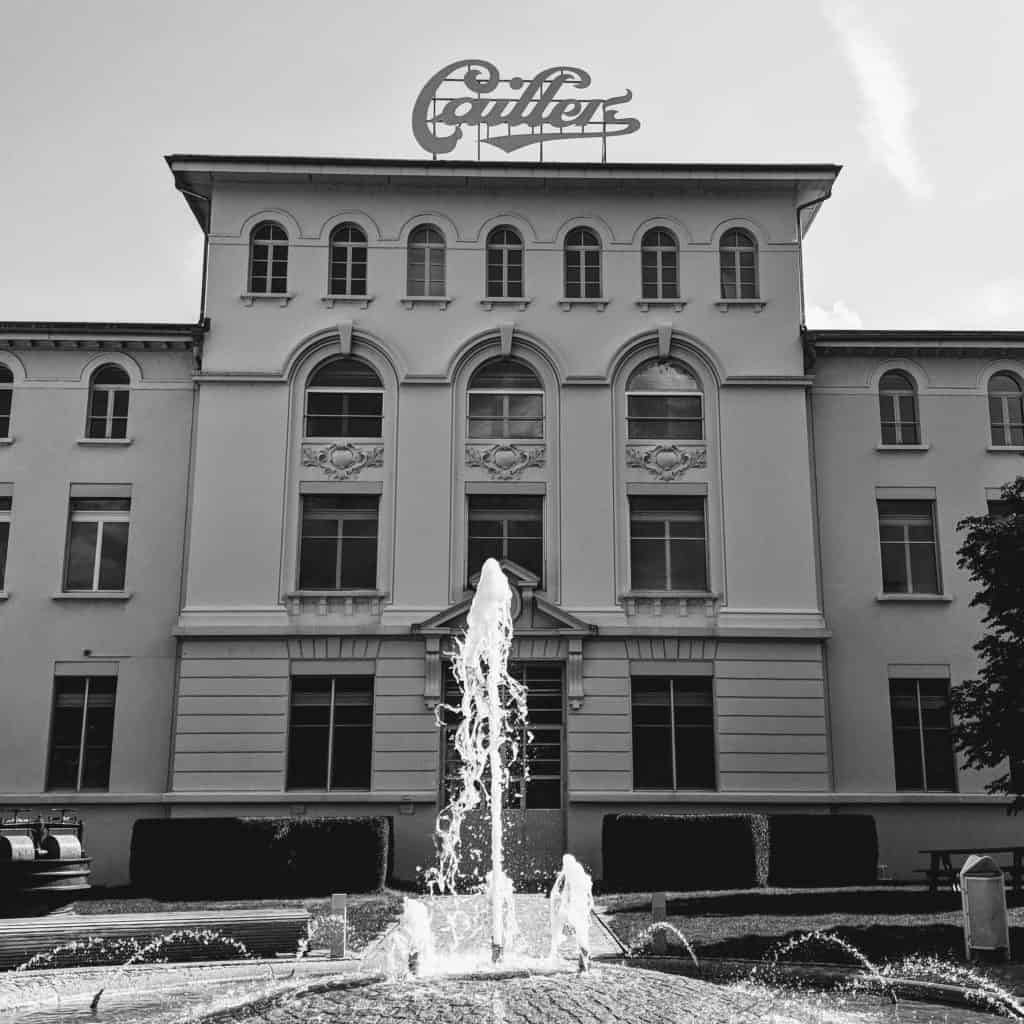 This is also another experience worth checking out! It is a gorgeous train ride with landscapes of the country and the alps, and is located in a tiny beautiful town of Broc. The factory here uses clever theatrical ad storytelling techniques that guide you through the history of chocolate, Nestle, Cailler and today. And at the end of learing, smellig and seeing the chocolate, you finally end with a buffet table of all the chocolate to try. A really fun experience!
Tasty Tip:
Tie this lovely excursion to head to the beautiful coutry tow of Gruyere just 15-30 miutes train ride from Maison Cailler. After all that chocolate, a little bit of salty cheese is just what you need and Gruyere is a great place to try it! Click here to the Gruyere Factory website.
Coop
Location: All over Switzerland
Price Range: $$
This is a very well-kown Supermarket in Switzerland. They have a huge selection of chocolates to try and buy. Come here for Cailler, Frey, Lidt, Nestle or even BIO. They have a ton of options for everyone to ejoy!
I like to come here to buy a few chocolate bars for my visitors and lay them on their pillows in our guest bedroom… very hotelesque, but, when in Switzerland. And I have ever heard any complaints.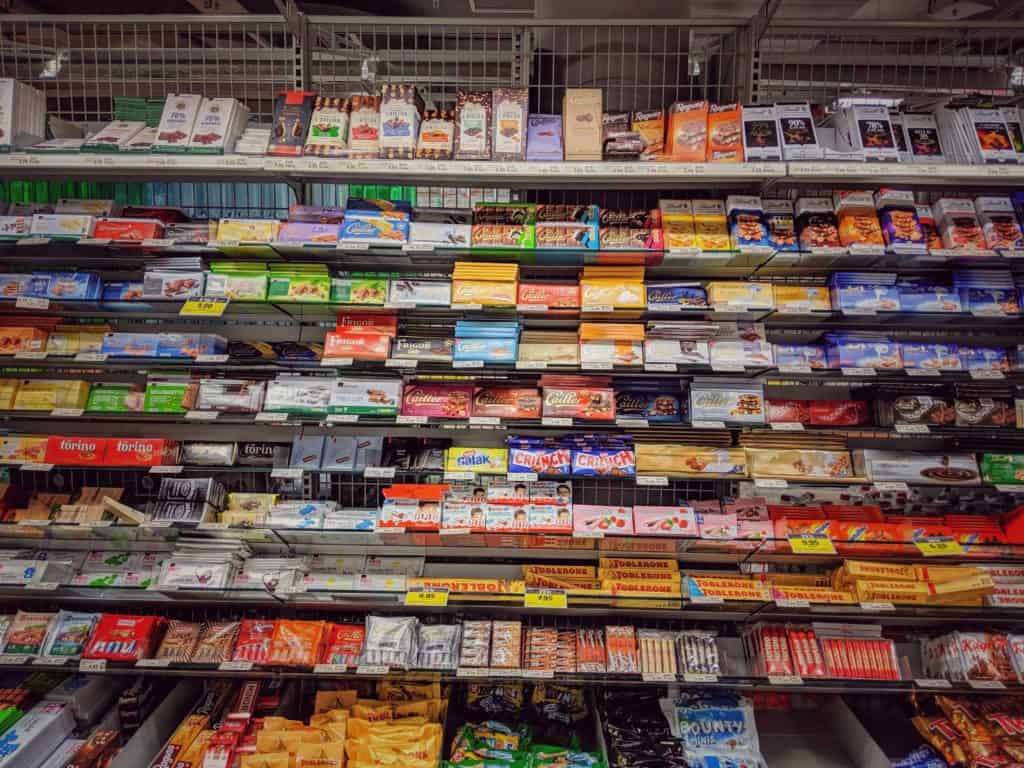 Alright you Chocoholics, I am now officially craving chocolate. I bet you are too! So don't be shy and go out and get some! I know I am!